Experience the new Mindful digital edition and get access to all the groundbreaking stories, techniques, tips and expert advice from the print edition beautifully redesigned for iPad®. The Mindful digital edition delivers the look and feel of the print edition, now fully customized with an interactive and easy-to-read design. Plus, get multimedia features that bring Mindful to life on your device.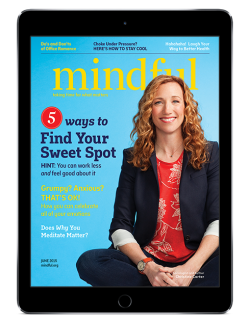 Enjoy Mindful in vivid display (especially Retina devices!), and the easy-to-navigate layout optimized for iPad.
Tap through slideshows and mindfulness practices and tips.
Access video extras and related web content straight from the pages of Mindful.
Keep a digital library on your iPad and access Mindful anywhere you take it.
Bookmark your favorite stories, tips, and techniques in the app.
Download the app for free and preview sample content.
Get a FREE 30-Day Trial when you subscribe today!
Already a print subscriber?
The digital edition is not currently available to print subscribers for free. We are working to make bundled print/digital subscriptions available soon.