Did you know? Mindful is a mission-driven, reader-supported non-profit
Why is Mindful an independent nonprofit? Because someone needs to advocate for the best way mindfulness can truly help people as it moves into the mainstream. And that's what Mindful does, every day, as we support those mindfulness champions in the field, free from the pressures that accompany for-profit ventures.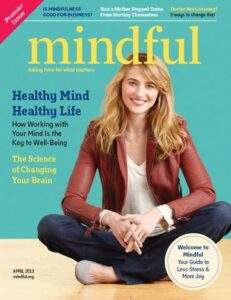 Here's how your support helps us
As a reader supported publication, over 70% of our operating costs are coming from readers like you who subscribe to our magazine. The easiest way to help us achieve our goals is to become a subscriber, or if you are already a subscriber you can give Mindful as a gift. You can also make a tax deductible donation.
Here are the three best ways to support Mindful today
Donate
Subscribe
Gift a Subscription
Here's how we got started and how you can be part of our story
When we started talking about launching a magazine on mindfulness five years ago, people told us we were, well, off our rockers. A magazine in 2013? About mindfulness??
Well, we went ahead anyhow. We created a non-profit media company to inspire, guide, and connect everyone who wants to learn more about mindfulness, to help create healthier relationships, and a more caring society. We sometimes call it "serving the emerging mindfulness revolution," but it's really about helping people just like you.
And now, with all your help as readers, writers, leaders, donors, advisors, and more, we're 4 years old with a robust and rapidly growing community that we serve with print and digital publications, conferences, videos, collaborations, and more.
Mindful has become established as the voice of the mindfulness movement. Your support—and the support of several generous foundations and anonymous donors—continues to make all this possible. Thank you!
Thank you for helping us grow by supporting our efforts
While mindfulness continues to mainstream, Mindful needs your help to take the next steps—to take advantage of this historic moment to scale up, to enable us to do more both for you and for many more people like you, and through all of that, to help transform society. Our fundraising goal for this year is $125,000. Your contribution will enable us to:
Expand our editorial and design staff for Mindful's print and digital publications. 
Increase our web and digital publication services.
Please join us in supporting this mission by either making a tax-deductible donation or giving a gift subscription to a friend, or both!
Thank you for your support!
Donate Today
———————————————————————————————————-
Mindful is a project of the Foundation for a Mindful Society, a 501(c) 3 tax-exempt organization. Donations are tax deductible where allowed by law. We acknowledge that no goods or services were provided in exchange for this donation.