Mindfulness has been questioned in the media recently, with some publications wondering if bringing mindfulness into education is the next passing fad: teaching children how to be calm little adults.
Beyond that knee-jerk reaction to the idea of children meditating, there are other criticisms—mainly, that there isn't the time or resources to do this kind of work. Vicki Zakrzewski at Greater Good explains:
We hear from many teachers in low-income schools that social-emotional learning (SEL) is considered an "add-on"—something that can happen after students have proven their academic merit. If that's the case, does that mean social-emotional learning is a luxury only for wealthy children, whose schools perform better academically and can afford to invest time and money in SEL programs?
You can read the rest of the article here. Zakrzewski makes the case that SEL programs are not luxuries, but necessities.
Indeed, evidence is emerging that small, low-cost mindfulness initiatives in schools could be beneficial. Mindful Schools, an initiative that offers a mindfulness curriculum to schools in the U.S., teamed up with the University of California to create the largest randominzed study ever completed looking at mindfulness and children. They looked at 915 children and 47 teachers in three Oakland public elementary schools. The study claims that with only four hours of mindfulness practice, over six weeks of the study, there were clear indications that behavior had improved. (A journal paper and more analysis is coming soon).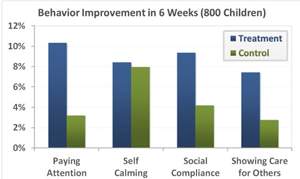 Perhaps some of the most persuasive qualitative evidence for the study came from a documentary called Room to Breathe. The film follows Megan Cowan, co-founder and executive director of programs at Mindful Schools, as she spends several months at San Francisco's Marina Middle School teaching mindfulness to a group of seventh grade students—many who would be considered "at risk."
"By providing students with mindfulness skills, we're teaching them to bring awareness to their experience," says Cowan. "Our simple techniques teach children how to focus, manage their emotions and stress, and more skillfully resolve conflicts."
A survey following the mindfulness course at Marina Middle School found that 80 percent of the students calmed down more easily when upset, 58 percent focused better in class, 40 percent used it to avoid arguments or fights and 34 percent said it raised their grades.
Between studies, documentaries, and grand-scale iniatives, we're wondering what is on your mind. Do you think mindfulness has a place in schools? Has your child gone through any mindfulness or SEL programs? We want to know what the experience was like, or your initial impressions.