With topics ranging from learning meditation to supercharging leadership, investigating technology or parenting or social justice, here are 13 of our editors' favorite picks out of all the books we've enjoyed this year: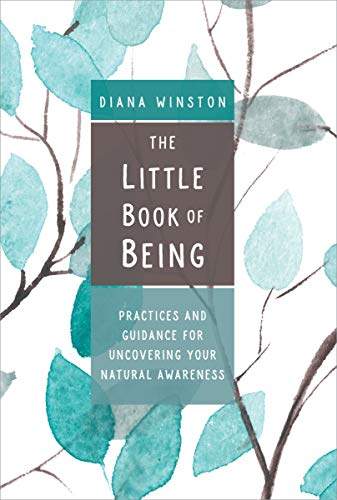 Diana Winston, Sounds True
It's no small thing to take on the responsibility of teaching others how to work with their minds, no less teaching teachers to do that. (It's not like teaching, say, tennis; it's the mind after all. Nothing is subtler or more elusive). A meditator since she was a teenager, a meditation teacher for decades, and a teacher of teachers for quite a while, Diana Winston—director of mindfulness education at UCLA's Mindful Awareness Research Center—writes from direct experience. What she has learned in all those years comes through in The Little Book of Being, which focuses on "uncovering your natural awareness."
At a critical point in her life, Winston says, she realized, "It's time for me to relax, stop trying so hard, and recognize the natural awareness and goodness already inherent in my being—and in all beings. It was time to simply rest in awareness itself." Highfalutin words, but Winston shows how to adopt relatively simple practices that allow one to gradually move from a more effortful approach to mindfulness to one that doesn't consume so much energy, that has faith and conviction that we're already aware and don't need to be fixed.
This viewpoint alone allows us to stumble more easily on the kind of childlike mind that can simply appreciate the next thing in front of us: whether it's as small as a ladybug, or as serious as someone telling us how much they hurt.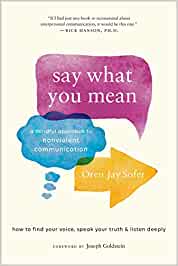 Oren Jay Sofer, Shambhala
In this era of polarizing rhetoric from every direction, it's easy to get caught up in the emotion of discourse without really…communicating. Written by meditation teacher and mindful communication expert Oren Jay Sofer, Say What You Mean is surely a book for such charged times. But it's also for anyone simply interested in learning how to deepen their own relational experiences, on any scale. And perhaps that should be all of us, for as Sofer writes, "What we say matters."
Further, "Intention is the single most powerful and transformative ingredient in dialogue," he writes. "It shapes our verbal and nonverbal communication, directing the course of a conversation."
The book is structured around three fundamental skills for mindful communication: Lead with presence; come with curiosity and care; focus on what matters.
Through discussion and example, and supported by reflections and practices to ground the teaching, he helps us explore our own habituated styles of not just communication, but of viewing the world, and how this impacts how we speak to one another and how we listen.
The book is also chock-full of "ahas"—gems and statements that immediately hit you as important and true. Things like:
Everything we do, we do to meet a need.
The less blame and criticism in our words, the easier it will be for others to hear us. When someone trusts that we're actually interested in understanding them[…]they can stop defending themselves and just hear what we're saying.
To say what we mean, we must first know what we mean. To know what we mean, we must listen inwardly and discern what's true for us.
At the end of each section Sofer offers a useful Q+A to explore the reality of wanting to follow the principles and guidelines of mindful communication, and getting tripped up in real time. The advice is succinct and practical and delivered with a bid for compassion, for ourselves and for everyone just trying to be understood.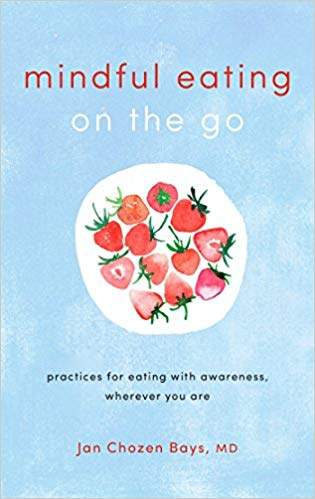 Jan Chozen Bays, MD, Shambhala
To consume food or drink, these days, is not only about keeping ourselves alive. It's about constantly measuring our consumption and our body image against the thousands of ads and other messages about food that we're bombarded with, day in and day out. It's hardly news that this inescapable reality can do a number on our ability to freely enjoy fuelling our bodies. For those who want to reclaim that freedom, this pocket-sized book on the key principles of mindful eating is a great place to start. Chozen Bays teaches how we can discern the "nine aspects of hunger" that we experience, approaching our needs and cravings with full, nonjudgmental awareness, so we can heal our relationship with food.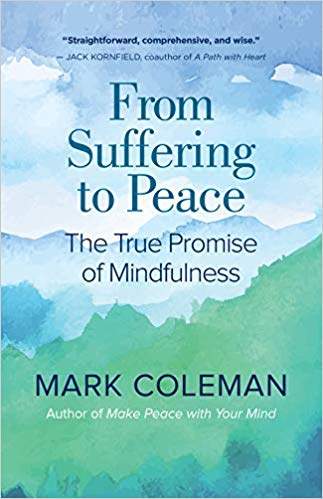 Mark Coleman, New World Library
Longtime meditation teacher Mark Coleman—author of Make Peace with Your Mind: How Mindfulness and Compassion Can Free You from Your Inner Critic and Awake in the Wild: Mindfulness in Nature as a Path of Self-Discovery, among others—is at pains to demonstrate in his new book that mindfulness is definitely, incontrovertibly not about finding an escape from the pain we find in the midst of everyday life.
The book, in fact, is filled with poignant stories of students who have come to him with immense pain. One woman, for example, came to a retreat having, over a two-year period, lost her sister in a car accident, her brother to a heart attack, and her father to cancer. Shortly thereafter, her only living aunt died, and weeks before the retreat, following several agonizing months, her mother passed away in a state of dementia.
Stories like this from students demonstrate, however, that the "true promise of mindfulness" in the subtitle is that if we turn toward pain, rather than seek escape valves in temporary states of mind, we may find ourselves on a path toward genuine, sustainable peace. Maybe not overnight. But over time.
The 36 chapters in From Suffering to Peace are short, and all end with a practice or contemplation. They're divided into four parts corresponding to four areas of practice. The body section asks us to explore what it means to have a body (and to know that at some point "we" won't). The mind section focuses on thoughts and our conception of a self. The heart section treats our emotions, and the world section explores our relationships with those around us and the natural world. It's a very filling meal.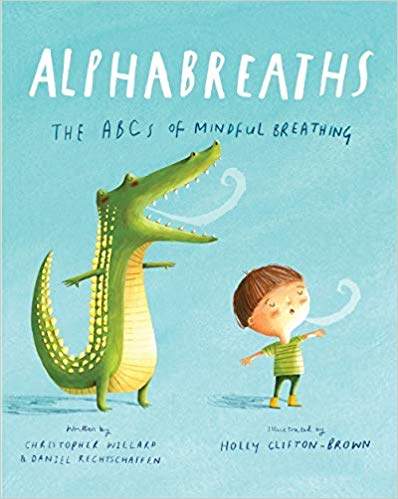 Chris Willard, David Rechtschaffen, and Holly Clifton-Brown, Sounds True

"Spread your arms like a butterfly, imagine blowing out the candles on a birthday cake, or be still and silent as a ninja." Psychologist Chris Willard and Mindful Education director Daniel Rechtschaffen—each having written several previous titles on bringing mindfulness into children's lives—offer 26 imaginative ways for kids and their adults to pay attention to the breath all day, from Alligator Breath to Zzzz Breath (no prizes for guessing that the last one involves gearing down for bedtime). Accompanied by adorable, vibrant, homespun illustrations, the wide variety of exercises will help kids associate mindful breathing with play and with learning about ourselves in relation to the wider world.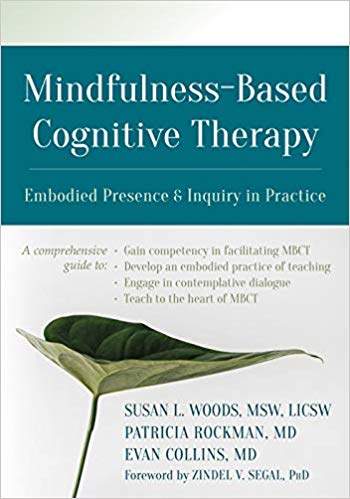 Susan Woods, Patricia Rockman, and Evan Collins, New Harbinger

When three mood-disorder researchers (John Teasdale, Zindel Segal, and Mark Williams) collaborated in the early '90s to marry Cognitive Behavioral Therapy to mindfulness practices, they created a hybrid greater than the sum of its parts. MBCT doesn't simply overlay meditation on CBT's interruption of thought patterns. It emphasizes going beyond manipulating thoughts to becoming intimately aware of our automatic thought patterns—trusting that repeated nonjudgmental appraisal of these patterns can inspire us to disrupt repetitive thinking.
In this book, three clinicians who have been teaching MBCT for nearly as long as it has existed (and who also train others to teach MBCT) lift the hood on this relatively new and powerful vehicle. They do so in order to guide would-be practitioners—particularly those who facilitate MBCT courses—in the nuances of how MBCT works when it's done well.
Two major themes rise to the surface. The first is that to facilitate MBCT requires embodying the practice. One of MBCT's founders, Zindel Segal, who wrote the foreword to this book, has repeatedly emphasized that mindfulness is a skill. As such, it must be modeled and demonstrated for others. MBCT is not about getting high on insights; it's about learning how to ride and redirect our mind and emotions.
The second major theme is that inquiry practice—essentially prompting us to explore and describe experience—is the powerhouse at the heart of MBCT, and it emerges as a "contemplative dialogue." The book offers a master class in this powerful form of dialogue, which has been extremely helpful for countless people working with anxiety, depression, and other mood disorders.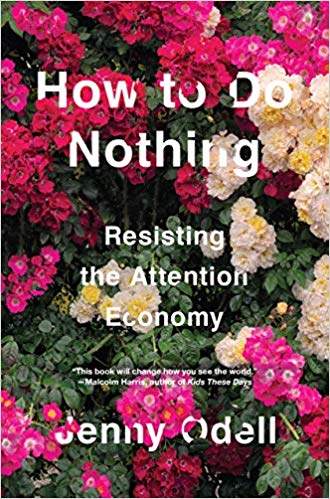 Jenny Odell, Melville House
In her debut book, Jenny Odell puts forward an uncommonly rich, poetic ode to the here-and-now, and a call to find belonging in it. While she critiques both "productivity-obsessed culture" and addictive tech—unsurprising, since she grew up in Silicon Valley—she goes well beyond a mere list of reasons to turn off your phone. She looks to (for example) literature, art, working-class and Native American histories, experimental music, and her own experience (as an artist, art educator, and birdwatcher) in the Bay Area to illustrate the true vibrancy and potency of human attention. Naming attention as our primary resource to combat looming social and ecological catastrophe, she paints a compelling picture of why it's urgent that we return to a sense of publically-shared, embodied space and time. "A simple refusal motivates my argument: refusal to believe that the present time and place, and the people who are here with us, are somehow not enough," writes Odell. It's hard not to admire the mindful nature of that refusal.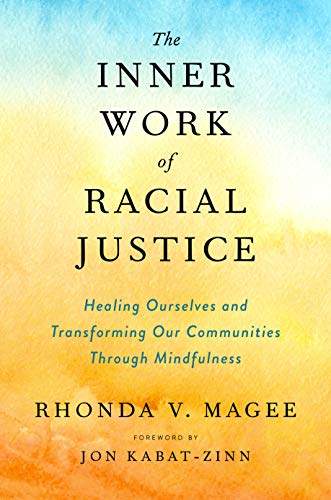 Rhonda V. Magee, Tarcher Perigee
Early in this book, Rhonda Magee tells a little story that both breaks your heart and illustrates why she has devoted her life's work to getting to the heart of bias and helping to undo its deleterious effects. She recounts the first time she came to see fully how other people could view her in a completely different light than she and her family viewed her. She saw that there was a wall dividing people—a wall that could be nearly invisible until you bumped up against it.
Magee has brought together experience as a law professor and a longtime practitioner of mindfulness—and training as a mindfulness teacher—to host classroom conversations about race, privilege, and bias that few of us ever take part in, particularly in a mixed-race context. She's learned a lot from years of this kind of hands-on work. For one thing, it has taught Magee that color blindness is an unhelpful concept for promoting equity and justice. Despite the fact that race is "socially constructed" and ultimately a "fiction," our perception of significant differences is unmistakable, so we cannot be "blind" to color. That's simply a prescription for being blind to our biases.
Instead, Magee teaches and practices what she calls ColorInsight, using contemplative practices to peer into and beyond our biases. It starts from a view that we are deeply interconnected, but need to "take a long (lifelong), loving (heartful and compassionate) look at racism," where "staying in our discomfort" can be "an important part of healing and transformation." Through instruction, stories, history (both legal and otherwise), and insight, Magee takes us on a very rewarding, vital, and timely journey.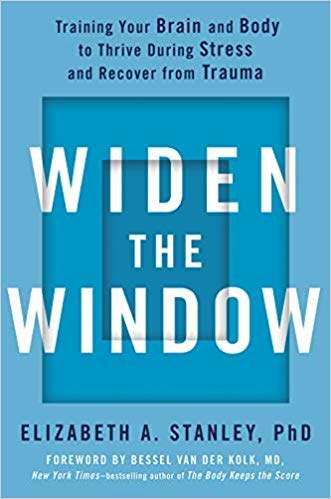 Elizabeth A. Stanley, Avery

Liz Stanley—a graduate of Yale, Harvard, and MIT; a retired military officer; and an associate professor of security studies at Georgetown University—readily admits to operating in overdrive. Early in Widen the Window, she lets us know that a Stanley has served "in the US Army every generation since the Revolutionary War, including on both sides of the American Civil War." Her experiences in the army, including sexual harassment, led to a diagnosis of PTSD.
Apparently resilient "as our society usually understands it" (i.e., "capable of tolerating and functioning through an immense amount of stress"), she actually undermined her resilience by "sucking it up and driving on," which results in "tremendous achievement and success…until it doesn't anymore." Finding mindfulness and loving-kindness helped her see the possibility of working in extreme situations without ignoring what's going on with our central nervous system.
Her firsthand experience with suck-it-up culture inspired her to formulate training that focused not on technology, but rather on the main asset in any organization: a fully functioning human being. In developing Mindfulness-Based Mind Fitness Training, she emphasized that military personnel needed it pre-deployment, not just to clean up psychophysical messes after the fact. It also needed a strong component of bodily awareness, so she learned Somatic Experiencing and incorporated it into the program, which lasted several years and was taught to thousands of people, producing positive research results.
Widen the Window is Stanley's comprehensive overview of stress and trauma, responses to it, and tools for healing and thriving. It's not only for those facing life and death situations, but for everyone: We're all exposed to a culture that asks us to barrel ahead oblivious to what's going on in our brains and bodies, no matter how damaging.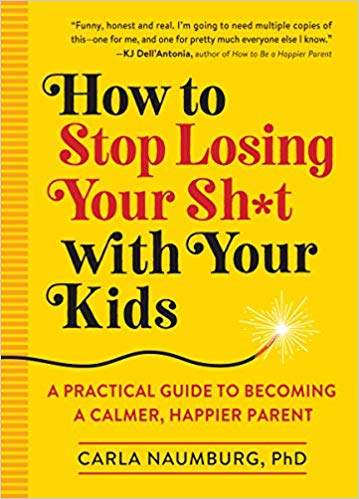 Carla Naumberg, Workman Publishing

Part of what's refreshing about Carla Naumberg's work is that she isn't out to pretend parenting is a walk in the park. Of raising her own three children, she quips, "Bear in mind, I have a PhD in clinical social work, and I was reduced to Googling that shit." Throughout the chapters, from "How I Stopped Losing My Shit (Quite So Often)" to "After the Shitstorm Has Passed," she emphasizes that the key is not maintaining an iron grip on your offspring but rather knowing what presses your parental buttons and focusing on tiny, practical ways you can shift to stay on a more even keel. What's also refreshing is her voice, which comes through as compassionate, witty, wise, and (no shit!) a little profane.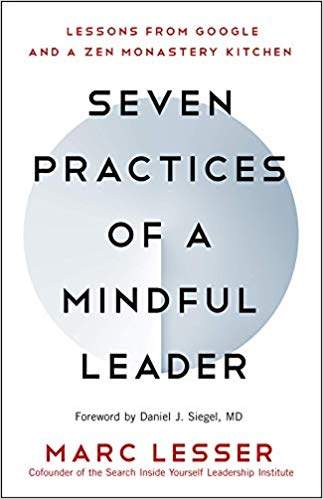 Marc Lesser, New World Library
When Google began its Search Inside Yourself program, it invited Zen teacher Norman Fischer to address its first cadre of teachers. He didn't actually know he was scheduled to speak (Google can be "spontaneous"). He quickly jotted down seven principles for teaching mindfulness. Marc Lesser, cofounder of Search Inside Yourself Leadership Institute, embraced the principles. He's used them as a guide, he says, for the "culture I wanted to create within the organization, for how I wanted to teach leadership, for how I wanted to show up as a leader, and for how I wanted to live my life." Those principles are the backbone of this clearly articulated, practical, and helpful book.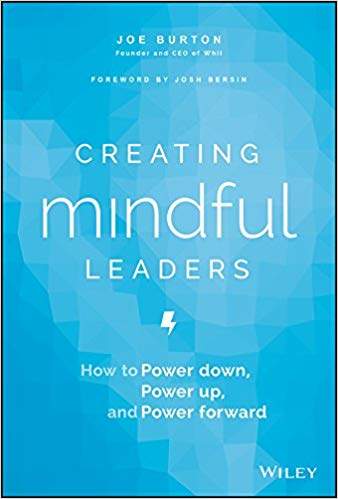 Joe Burton, Wiley

With a list of leadership positions and industries as long as your arm, Joe Burton is clearly someone who has led a busy, and very accomplished, life. Somewhere in the middle of all that, while trying to be a good spouse and parent as well, he "discovered mindfulness as a super-stressed-out executive after dismissing it as 'definitely not for me.'" Before too long, he decided not only to take up mindfulness but also to make it the centerpiece of his career, founding Whil, a "digital well-being training platform." Its Creating Mindful Leaders Workshop forms the basis for this book, which is playful while also backed by solid evidence. It's full of enjoyable illustrations, charts, diagrams, boxes of advice, and practices. A very hands-on introduction to bringing mindfulness into a high-performance culture.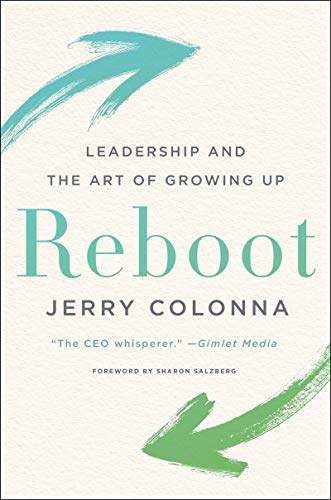 Jerry Colonna, Harper Business

The moniker venture capitalist doesn't usually generate warm fuzzy feelings in the heart, and startup specialist and executive coach are not much better. You might think "overbearing, money-grubbing know-it-all." But not every VC or coach is a longtime member of the board of Naropa University, a leader in contemplative education. For Jerry Colonna, money is not the big motivator. Living your aspiration is his focus, and experience tells him that anyone who aspires to great things will face challenges that test inner resolve. That's why Reboot focuses on "radical self-inquiry": looking in places we don't want to look, where we get stuck in a quagmire of fears, doubts, and withering self-criticisms. When we can look in those places—using the stability gained through contemplative practice—it can cultivate an inner strength that allows us to take on the inevitable obstacles along the path to realizing our deepest aspirations.