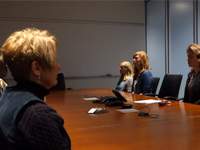 And they're not sleeping, the anchor says, as we're introduced to a group meditating around a boardroom table.
StarTribune looks at meditation at General Mills and talks to Janice Marturano, founder of the Institute for Mindful Leadership, about bringing meditation to the office back in 2006.
The article also looks at how the practice is becoming increasingly popular across corporate America and mentions Target and the Mayo Clinic in Rochester as having some sort of meditation offering for employees.
To watch the video and read the article, click here.