By our count, there are at least 22 meditation timers out there, ranging from $0 to $5 and varying in the extras they offer (would you like some nature sounds with that?). Taking a broader look at apps containing some sort of meditation or mindfulness component, we're looking at nearly 45 apps, some endorsed by clinical psychologists and others merely asking you to choose an emoticon to describe your state of mind. Here are three apps we're happy we downloaded, and they're available for Android and Apple devices.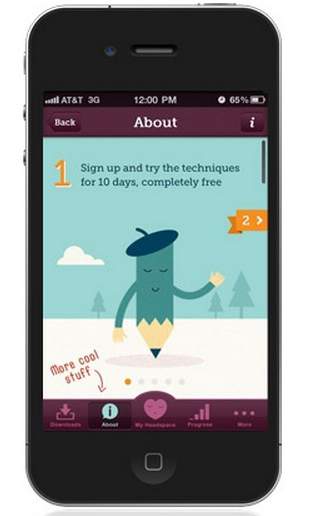 Headspace (on-the-go) This slickly designed app provides 10-minute meditation sessions, with the first 10 days available free of charge. (Then, you can choose a subscription. The annual option offers the best rate, $7.99/month.) You start with a brief body scan and then Andy Puddicombe, cofounder of Headspace, talks you through with easy banter and relatable instruction ("Don't force your breath, your body already knows how to breathe"). The app provides animations about how the mind works and tips on how to sit and breathe. It also allows you to set meditation reminders and track your activity.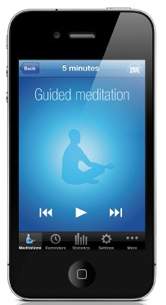 The Mindfulness App by MindApps ($1.99) The voice that guides you through this meditation takes some getting used to (it's a little on the whispery side), but the meditation technique itself is excellent—reminiscent of some of the practices offered by Jon Kabat-Zinn. This comes as little surprise, though, as the practices are guided by Catherine Polan Orzech, who teaches MBSR at Thomas Jefferson Hospital in Philadelphia. The app comes with guided meditation practices of 3, 5, 15, and 30 minutes in length. There's also a silent meditation option and a brief body-scan practice. Like most meditation apps, you can customize your meditation and track your progress.
Mindfulness Meditation from Mental Workout lets you choose from six different lengths of meditation practice, written and narrated by Stephan Bodian, author of Meditation for Dummies. The guided meditation has a bit less, well, guidance, but that might be preferable for those who seek instruction but not a constant stream of it. Extras include a 10-minute relaxation exercise and a body-scan practice. You can get a subscription to the app for $17 per year.
What apps or tech tools do you use for mindfulness, and how do they help? If you don't use them, why not? 
This web extra provides additional information related to an article titled, "Headspace (on-the-go)," which appeared in the April 2013 issue of Mindful magazine.