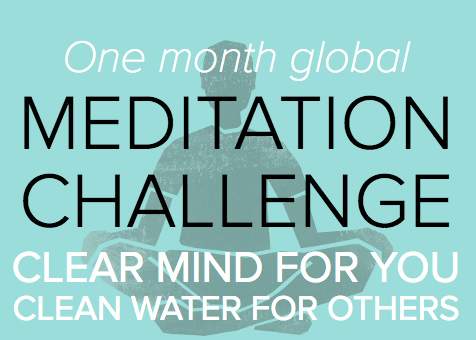 This annual, month-long campaign encourages participants to start a 10-minute, daily meditation practice while raising funds for clean water in developing countries. Proceeds go to Charity: Water—a non-profit organization that builds wells around the world.
The campaign has already raised more than $25,000 this year—enough for two wells in Ethiopia—before the event has even begun. Last year, funds were collected to dig wells in Rwanda.
To get involved, register individually or put a group together. You can be at any stage in your meditation practice, from first timer to seasoned veteran. Mindful in May will provide weekly audio meditations, links to interviews with mindfulness leaders, a meditation journal, and healthy recipes. And if you don't plan to take part but still want to help, you have the option to support others through donations.
Registration for the month of inspiring stories and information is open until May 1st.
Have you been putting off trying meditation? If you're thinking of beginning a practice, Mindful's Getting Started series could be just the encouragement you need. Five Reasons to Give It a Try, from Mindful's April issue, outlines common excuses and reasons to overcome them.
And here's a selection of audio, video, and other resources for meditation.