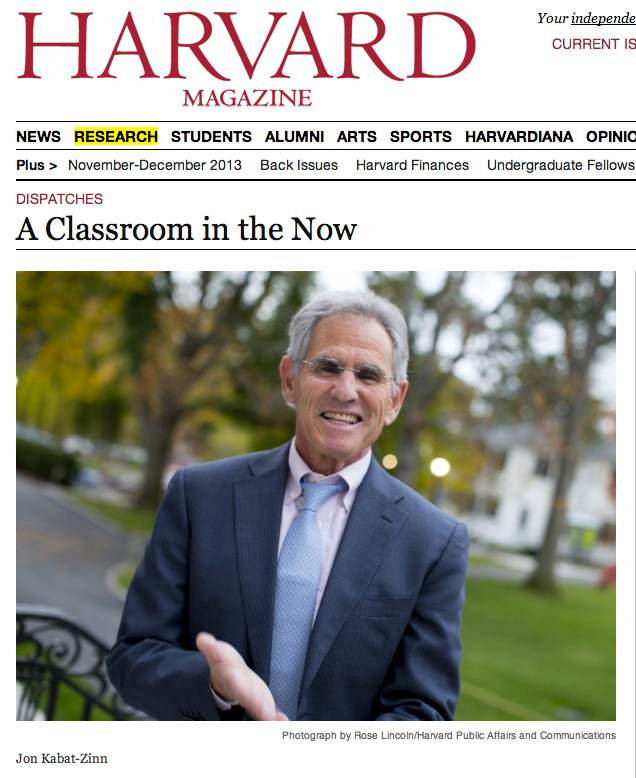 Last week, Jon Kabat-Zinn spoke to the Harvard Graduate School of Education about applying the practice of mindfulness in schools. He talked about how mindfulness should be a part of every school curriculumn, and how mindfulness is becoming more mainstream, noting some recent research and initiatives that are helping to fold the practice into education.
As the founding director of the Stress Reduction Clinic and the Center for Mindfulness in Medicine, Health Care, and Society at the University of Massachusetts Medical School, Kabat-Zinn has been a strong supporter of mindfulness initiatives like Mindful Schools, a program that offers a mindfulness curriculum to U.S. schools. (You can watch a video of how Mindful Schools teaches children mindful walking, eating, and movement here.)
One of the challenges that children face today, says Kabat-Zinn, is constant distraction in the form of technological stimuli like texts, email, and Facebook.
From the article:
"Self-distraction is at absolutely epidemic proportions—and it's not the iPhone, it's the thought of, 'I wonder if anybody texted me,'" he said. "There's always this digital domain—this virtual reality—and kids are even more challenged [to pay attention] than we were when we were young."
Kabat-Zinn talked about the importance of adults showing children how to pay attention, and how to do so in the heat of the moment so they can make wiser decisions. "Mindfulness is like a muscle, and without exercise it will lose its strength," he said. "Our world is so much about doing that the being gets lost."
To read the full article, click here.
If you want to learn more about mindfulness in schools, you may want to read "Five Things That Need to Happen to Bring Mindfulness into Education." In the article, Tish Jennings, Assistant Research professor at Penn State in the CARE (Cultivating Awareness and Resilience in Education) for Teachers program, examines the research and initiatives thus far and talks about what needs to happen next.