Just as a balanced diet mixes food types in sensible servings to keep your body healthy, a meditation diet helps you develop a healthy mind. Step back, look at your time as a whole, and serve up meditation—in various portion sizes—to enrich your life.
(You can click on the chart to enlarge it.)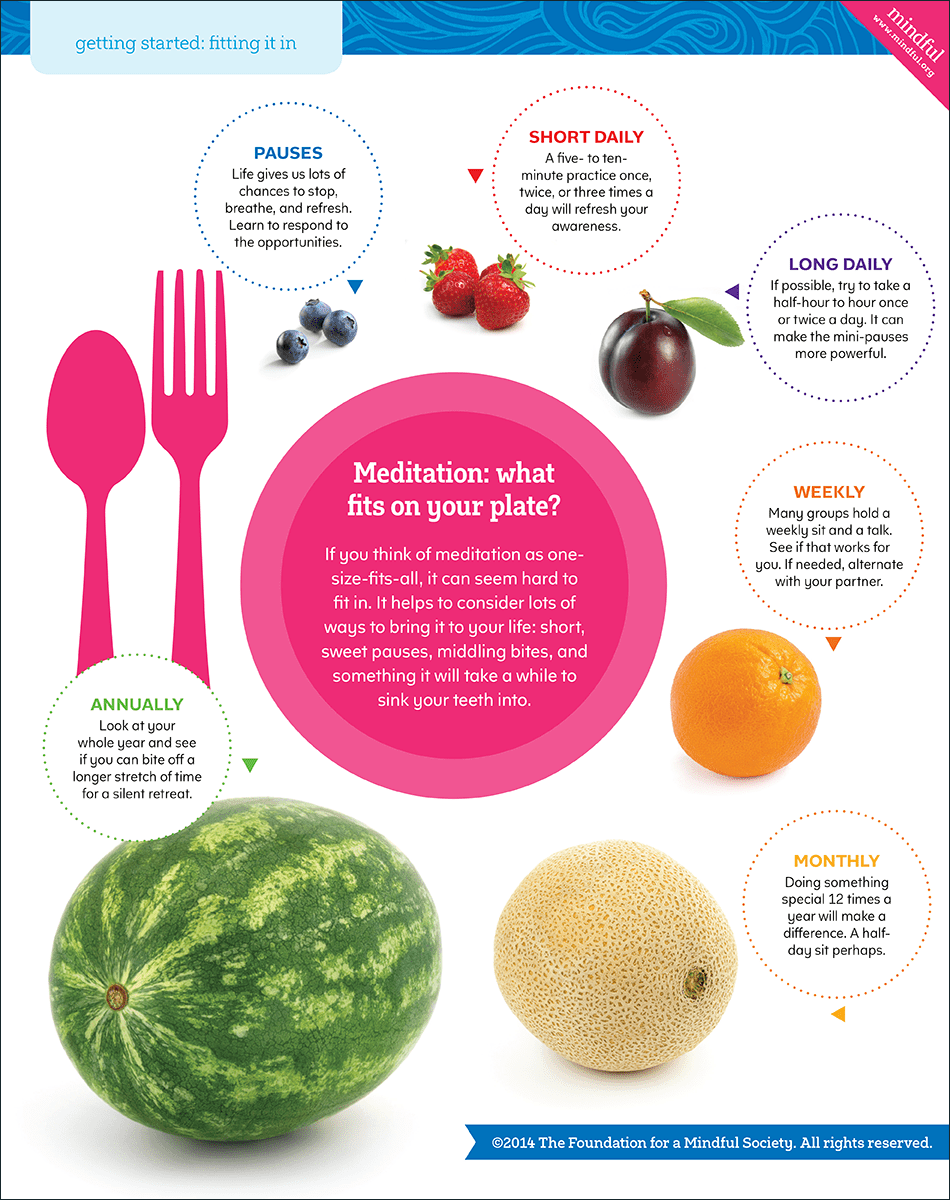 It's tempting to think "I'll develop more mindfulness after my job is less demanding, my kids are grown, and I have more time." We're waiting for the perfect schedule to magically align with our desires. Yet we may need the benefits of mindfulness even more when we think we have the least time to pursue them!
Like a good diet, adopting a mindfulness practice is a matter of looking at the habits of our life and making choices about what we can reasonably do, setting an intention, and getting the help we need to stick to it.
A good meditation diet mixes some daily practice with pauses throughout the day, something else we do weekly and/or monthly, and if possible something longer and deeper that we do once or more a year.
Your personal circumstances dictate what works for you. There is no single right way to do it. If you struggle to artificially jam meditation into your day, it will become an unpleasant tug of war. In the end, marrying meditation with your life is a matter of balance.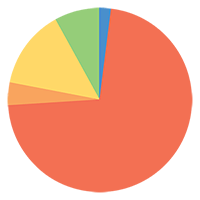 STAY-AT-HOME DAD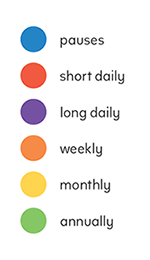 Eric takes care of two young kids while his wife Jean starts her career. He emphasizes short sessions twice daily, a monthly visit to a meditation group, and retreat one weekend a year.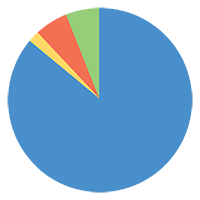 CAREER MOM
Jean helps raise the kids while building her counselling practice. She takes short pauses between clients, ten minutes at the end of the day in her office, and a two-day mindfulness training yearly.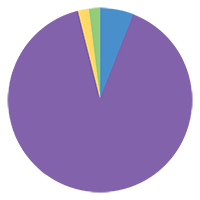 GRANDMOTHER
Kimiko volunteers part-time at a hospital. She's long had a daily practice, and now she sits for 45 minutes every morning and 30 in the evening—sometimes her granddaughter joins her.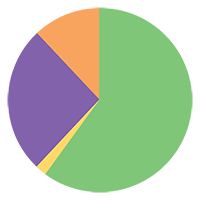 COLLEGE GRAD
Jose is devoting two years to recharging and charting his course. He sits 90 minutes most days, a whole day with a group some weekends, and is planning to do a 10-day retreat in the spring and in the fall.
This article also appeared in the October 2014 issue of Mindful magazine.