South Las Vegas Boulevard in mid-May is blindingly bright and has far more traffic than I'd expect on a weekday afternoon. As I maneuver my red Yaris among the taxis, Ubers, and much fancier rentals than my own, I'm mystified why there are so many people out on the Strip midday on a Thursday.
It's so hot, for one thing. And it hurts my eyes. The relentless sunshine bounces off everything—buildings, windshields, concrete. But worse than the glare is the sheer amount of stimulus: the faux Eiffel Tower and fountains and a gazillion stores and huge billboards of famous faces and flashing signs and club music pouring out onto the sidewalks and hawkers handing out coupons and women teetering by in heels not made for walking with guys carrying cocktails-to-go and groups of tourists posing for photos. I'm having a hard time keeping my eyes on the road and realize too late that I'm in the wrong lane. I floor it to move over, and zoom through the light before it changes, throwing a feeble, "I'm sorry! I don't know where I'm going!" wave to anyone I may have pissed off. I can feel my nerves crackle and my palms begin to sweat.
Ironically it's mindfulness that brings me here. I've come to meet Jewel, the singer-songwriter whose 2016 memoir Never Broken: Songs Are Only Half the Story shared with the world the many mindful practices she developed as a teenager to help deal with the anxiety, fear, and insecurity she struggled with since childhood. These practices remain an essential part of her life today. Now she wants to teach others that they, too, can change their experience of life, no matter where they start from, and find their own happiness.
Although it's been more than 20 years and 11 albums since her debut record, Pieces of You, to many Jewel is still best known as the soulful singer-songwriter with an impressive range (she yodels, no less) from Alaska, discovered at age 19 playing in a San Diego coffeehouse while living out of her car. But as the book title hints, there's much more to this story.
And this unlikely clickbait town is the surprising base for an ambitious slate of programs and projects with Jewel's mindful philosophy at their core. I'm eager to learn more.
Whole Humans
First I need to find the Bellagio's conference center, where Jewel is speaking and performing at SALT, a convention for the financial industry. I'm hustling; my search for cheap parking has made me run late. I cross what feels like the distance of four football fields before I finally arrive at the panel stage where Jewel is presenting with Zappos' CEO, a mohawked Tony Hsieh. I join a standing-room-only crowd of dressed-to-impress finance men and just a handful of other women.
Hsieh and Jewel are discussing their collaboration: the Jewel Whole Human Project powered by Zappos, being developed in the online shoe retailer's Las Vegas headquarters-cum-incubator. The idea is to create a benefits package of sorts, to help support employees to experience greater harmony in their lives, such as developing healthier work–life balance, or enjoying better physical or fiscal health. "Happiness is a side effect of having tone in every area of your life," she says.
The Jewel Whole Human Project powered by Zappos, is developed to create a benefits package of sorts, to help support employees to experience greater harmony in their lives.
The program will comprise "toolkits" of best practices and strategies, online and in real time, in key areas where employees identify needing the most support. Once it's up and running, they intend to sell the program to other organizations.
It's an ambitious proposal, and just one of many Jewel is involved with. There's a curriculum to introduce mindfulness into public school language arts programs, and a plan for a cartoon, to teach mindfulness to preschoolers. I learn that Cirque du Soleil is making a show about her life.
On stage talking about the importance of "investing in human capital" with Hsieh, Jewel exudes depth. She's poised, serious, and well-spoken. Wearing a navy blazer paired with jeans, she looks less like a music star and more like a hip but no-nonsense CEO. The crowd seems receptive, which I find interesting, considering this talk comes alongside presentations like "An Investor's Guide to Shifting Global Paradigms" and "Your Morning Forecast with Dr. Ben S. Bernanke."
But mindfulness—and let's face it, the pairing of Tony Hsieh and Jewel on one stage—has a bit more dazzle than hearing about the pros and cons of liquid alternative strategies in your portfolio.
Jewel 2.0
Jewel is pivoting, as they say in the start-up vernacular that infuses her world these days. Over the next week I'll hear about programs in "beta," about the entrepreneurial spirit, and about metrics—or, rather, how to not base creative ideas on these measurements. There's even a meeting with Apple cofounder Steve Wozniak, who, it turns out, is a friend.
"I've constantly allowed myself to take risks," she tells me a few days later in the far more relaxed atmosphere of the Lake Las Vegas rental where she's staying for the next few months, away from her normal life splitting time between Nashville and Telluride, Colorado. The lights are off in the house, and it's quiet except for the periodic whispers of her 6-year-old son, Kase, who keeps popping in to visit. The calm that pervades seems to be by design: Jewel confirms that the busier she is, the more still she gets. In between performances, appearances, and business meetings this past week, she's been meditating three times a day.
While her turn as a mindful influencer may seem surprising, the truth is, Jewel has never followed the obvious path. As a musician, she comfortably slides in and out of folk, pop, and country genres. She independently produced two albums of lullabies and has written children's books. She acts. And she's taken big chunks, years even, of time o between projects, a highly discouraged move in the music industry. "I wouldn't recommend it if you want to stay on the album charts," she says wryly.
Interestingly, her unconventional upbringing is what gave rise to the mindful focus that seems to be shaping her future. Growing up in a musical homesteading family that helped to settle the 49th state, her childhood was an eclectic mashup of living o the land, horseback riding under the midnight summer sun, performing in bars and honkytonks throughout Anchorage with the family act, and an affinity for Socrates, Plato, and the work of Charles Darwin despite suffering from serious dyslexia. It was also unstable and increasingly abusive. After Jewel's mother left when she was 8, she and her two brothers were raised by her father. Life as a musician wasn't easy, and her dad turned more and more to alcohol, Jewel writes, leading to explosive bursts of anger and physical abuse, which prompted Jewel to move out at age 15.
Living on her own, hitchhiking to work so she could pay the rent while still in school, Jewel knew she was at great risk of "becoming a statistic." "If you look at my life at any stage, you might've said, This girl will never make it, and you probably would've been right," she writes.
She also faced mounting anxiety and panic brought on by the pressure of being a teenager trying to navigate the adult world. Journaling (something she had done since childhood), meditation, and visualization helped.
"There was no stability, no certainty, and no predictability in my life," she writes. "The visualizations brought such a peace and allowed me to live in my own body and enjoy the space and calm in there for a little while. Meditation helped me to access the same thing my writing did: my intelligence and my instincts beyond the turmoil that inhabited the forefront of my mind."
She left Alaska after earning a scholarship to a performing arts high school in Michigan her junior year. During school breaks, lacking the funds to go home, she would "hobo" around— bus, train, and hitchhike—guitar in hand, and write songs along the way. One time, she made it all the way to Mexico and back. She was 16.
Following graduation, Jewel headed to San Diego. After turning down the advances of a creepy employer and subsequently losing her job, she could no longer pay rent and ended
up living out of her car. She shoplifted food, struggled with agoraphobia, and suffered from chronic kidney infections. She was poor, sick, isolated, and depressed—exactly where she had determined she would never be.
"I had become a statistic," she says. "I was very disappointed in myself."
Talking about this time, Jewel recognizes that she was suffering a kind of post-traumatic stress. She was just 18 and had experienced more than many of us will in a lifetime. But lacking the resources to seek help, she relied on the mindful practices she had developed years earlier as her lifeline. She also began visiting the public library and reading about neuroscience, fascinated by the notion that she could change the way she perceived her experience.
This curiosity laid a trail of breadcrumbs that would guide her back to a healthier outlook.
She doubled down on observing where her mind was leading her, creating gaps in her thinking, breaking up her "habit loops," and "curating" healthier thoughts. Each day she began noting any little thing she could feel grateful for. She practiced replacing negative thoughts with positive ones.
It worked. "My anxiety began to calm down, one thought at a time," she says.
"I didn't know what mindfulness was. Nobody did back then that I was aware of. I developed these exercises of necessity," she explains. "It was just, I need solutions that work so I have a better experience of life, because I was really unhappy and tremendously uncomfortable.
"I realized," she says, "that my happiness begins and ends with me."
Hearing Jewel talk about her life, even after reading her memoir, I'm stunned. It's difficult to fathom how far she's come, and the road it took to get here. ("I was a junkbond kid. No one was willing to invest in me, so I had to invest in myself," she tells an auditorium full of finance execs at SALT.)
And once again I'm awed by the power of mindfulness. To think that this beautiful, intelligent, and grounded woman once felt so alone and traumatized with fear that she was afraid to get out of her car—and yet was able to find confidence, courage, and, yeah, happiness, by tuning into her thoughts and challenging those that kept her feeling diminished, deeply moves me.
Mind before Money
Now 43 and mom to her bright and curious son with ex-husband Ty Murray, a retired rodeo star, Jewel has far different concerns—like how to raise a down-to-earth kid in the midst of celebrity privilege, how to maintain her career without having to tour all the time, and how to make a larger contribution in a way that feels authentic and useful.
And early on, after so many years of trying to find a safe place within herself, she chose to put being happy and healthy—in mind and body—before the pursuit of money or fame, something she recognized from the beginning as a "trap," she says.
"Opportunity doesn't directly equal success," Jewel says, acknowledging the huge number of people who become famous but lose themselves in one way or another. "I made sure that my first job was to be a whole human. Being a musician came second."
"Opportunity doesn't directly equal success," Jewel says, acknowledging the huge number of people who become famous but lose themselves in one way or another. "I made sure that my first job was to be a whole human. Being a musician came second."
It's this philosophy that underscores the new chapter in her professional evolution. "Music has been the soundtrack to my mindfulness practice, the practice of How do I evolve, how do I change?" she says. "Now I'm interested in what I can offer beyond what I've been talking about in music. I want to give people much more practical methods, real tools to help them, because anxiety is at an all-time high, depression is at an all-time high. People need tools to help themselves instead of looking outside for solutions or distractions."
This, she says, is her real art—and, she hopes, her best work of all.
In addition to the Whole Human initiative, last year Jewel launched the nonprofit program and web platform Jewel Never Broken in partnership with the Inspiring Children Foundation, a Las Vegas-based "psychology for life" program for youth, where she also serves as a mentor.
The website and community forum is run and managed by alumni of the foundation, and shares the axioms and exercises Jewel developed toward the goal of emotional fitness. It's a project close to her heart. "I'm advocating for wisdom and helping people understand they can be the architects of a life they choose. They don't have to be a passenger in a life they inherit," she says.
Pass It On
Jewel's latest album, Picking Up the Pieces, released in 2015, was heralded by some as a welcome return to the sound and writing of her earlier work. It's also a powerful accompaniment to the revelations made in her memoir about the dysfunction and abuse in her family, and the hardships she's endured on her own path to being a "whole human."
In "My Father's Daughter," featuring Dolly Parton, she pays homage to the female pioneers of her family and to her dad. It marks a healing in their relationship, something she credits with the brave work he has done on himself.
In another song, "Mercy," she cries,
When you're locked away,
Fighting shadows, constant battles
Trying to feel safe
When your own armor starts killing you,
'Cause it's causing you to sink beneath its weight
Call for mercy, won't you please
Call for mercy, get on your knees
You're being broken, again and again
You'll keep being broken, until you remain
Open
A few days later, I'm at a high tea put on by the kids in the foundation for its supporters, where Jewel is the featured guest. One of the girls, a 15-year-old who came into the program after trying to commit suicide, stands up and talks about this song. "I feel like I'm finally understanding that, like, life bringing you to your knees isn't a bad thing, that those moments where you are overdrawn really are times of growth, and that I'm lucky to have them," she says.
Jewel isn't the only one wiping away a tear at this. It's clear that these kids are ripe for the practices she had to teach herself out of necessity. And that's just what she hoped for when she embarked upon this path.
At one point, she tells me, she had a realization. "What if I'm not broken? What if I shouldn't approach this from the concept that I'm broken and I need to be fixed? That's a horrible proposition to start from, because you're saying The answer is outside myself, healing is outside myself. So I decided to tackle it from the idea that, What if I exist perfectly at all times? And it's really just a matter of doing an archeological dig back to my real self?"
At one point, she tells me, she had a realization. "What if I'm not broken? What if I shouldn't approach this from the concept that I'm broken and I need to be fixed? That's a horrible proposition to start from."
That's where the work of creating happiness begins, she says: digging through the mud and gunk that life heaps on, unwinding habits you developed out of necessity that no longer serve you, and to examine the thoughts that run your mind, to see if they're reflecting your truth.
And, importantly, paying attention to even those small moments that bring you joy.
Like spending quiet time with your son. Or riding horses. Or exploring new and innovative ways to share the hard-earned wisdom you've gained with the hope of making someone else's journey a bit easier. And knowing that when life shifts or knocks you at, you can go inside, listen to what your mind is telling you, and choose a better thought.
Ideas to Live By
In her pursuit of emotional fitness, Jewel developed numerous maxims and principles she still lives by. They form the foundation for the various programs and initiatives she's now creating. Here are a few of them.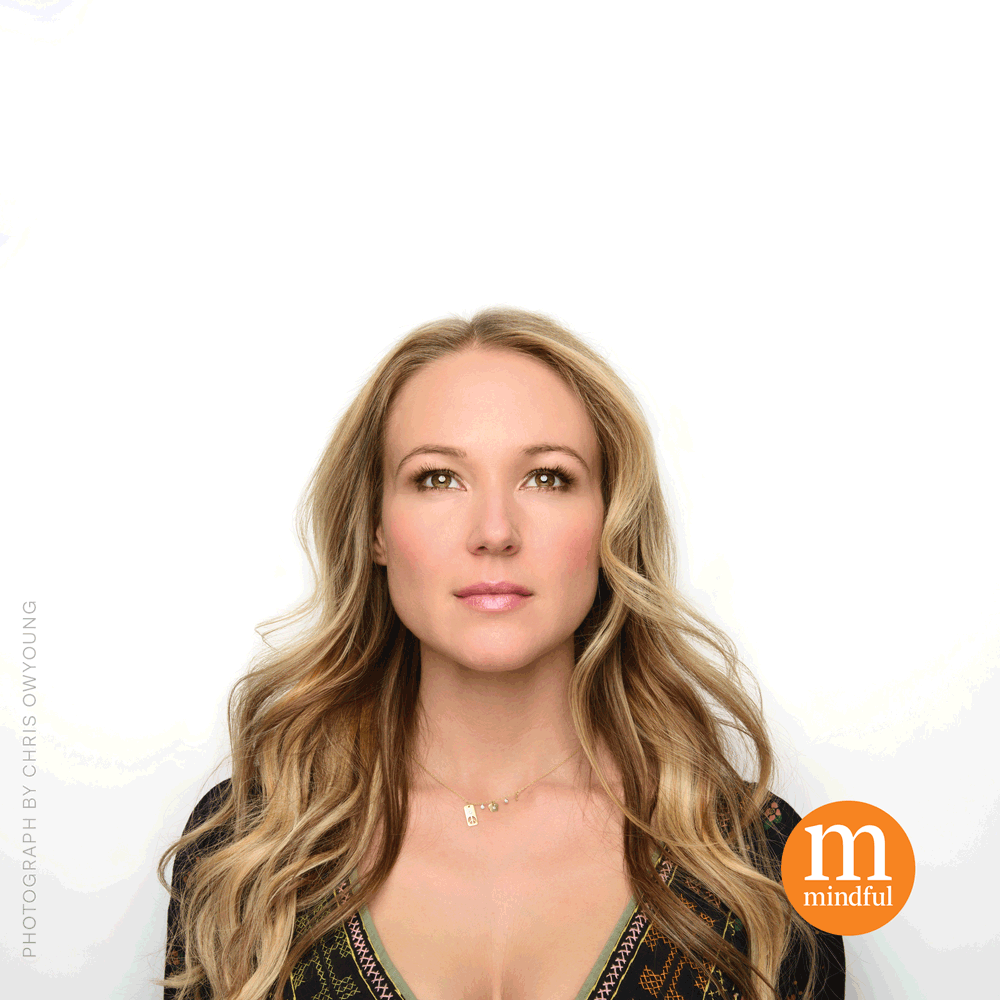 This is an excerpt of Mindful's feature on singer-songwriter Jewel from the October 2017 issue of Mindful magazine.