This morning I woke up thinking about chocolate—is there any other ingredient that should be eaten more mindfully than chocolate? I think not. It's so sensual, it needs to be savored.
I love the rich colors and taste of all types of chocolate—from alabaster white to the deep earth tone of dark chocolate. It's amazing how just a little bit can be so satisfying and intense. So for this issue, I decided to create a chocolate cake and a cookie recipe not only because I adore chocolate (the dark variety especially), but also because February brings Valentine's Day and it's a lovely tradition to give loved ones a chocolate treat.
For me, baking has a magical quality to it that makes me feel peaceful. Secure. I pay close attention to the ingredients necessary to create the dish I have in mind, and am excited by the endless possibilities and combinations of ingredients. I've done the math so often before, so I am confident nothing will go wrong and I'm free to improvise and be creative.
Although I enjoy making all kinds of desserts—from fruit tarts to crème caramel to charlottes—I invariably come back to chocolate. So I've created a dense and delicious hazelnut chocolate cake and decadent two-chocolate chip cookies.
The cake is rich and creamy and the finished dessert—frosted with a mascarpone topping—looks as if you've just picked it up at an expensive pâtisserie.
I created the two-chocolate chip cookies with flax, pecans, and a touch of fleur de sel as a sweet treat for my daughter, as she is my true Valentine. She will enjoy a cookie, or two, with some hot chocolate—baked with love by her maman. As I always say, food is love, and here is my latest offering. I hope you enjoy it. A votre santé et bon appétit!
Two-Chocolate Chip Cookies with Flax and Pecans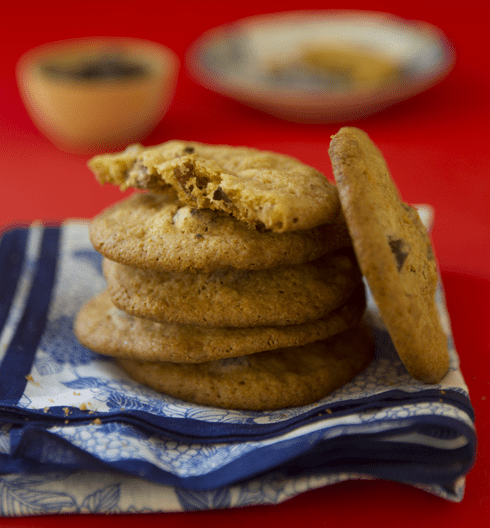 Makes 24 cookies
1 cup millet flour
⅓ cup white rice flour
⅓ cup cornstarch
2 tablespoons golden flax meal
½ teaspoon baking powder
½ teaspoon baking soda
¼ teaspoon fleur de sel
1 stick (8 tablespoons) unsalted butter, soft
½ cup brown sugar
¼ cup clover honey
1 tablespoon pure vanilla extract
1 large egg
¼ cup white chocolate chips
¼ cup dark or milk chocolate chips
½ cup pecans, coarsely chopped
Combine millet and rice flours, cornstarch, flax meal, baking powder, baking soda, and fleur de sel in a bowl; set aside.
In a large bowl, beat the butter with sugar and honey until creamy. Add vanilla and egg, and beat until smooth. Add flour mixture and beat until blended. Stir in chocolate chips and pecans. Refrigerate for 1 hour.
Preheat oven to 350°F and prepare two baking sheets with parchment paper. Using a tablespoon, place dollops of cookie dough on the baking sheet, 2 inches apart (cookies will spread). Bake for 15 minutes. Remove from oven and transfer to a rack to cool. Store the cookies in an airtight container.