Watch the Video:
Transcript to come.
Mindful Writing Group:
Inspired by the engagement in this workshop, we've started a Mindful Writing Facebook group. Click the link below to connect with a community of writers and share your practice.
---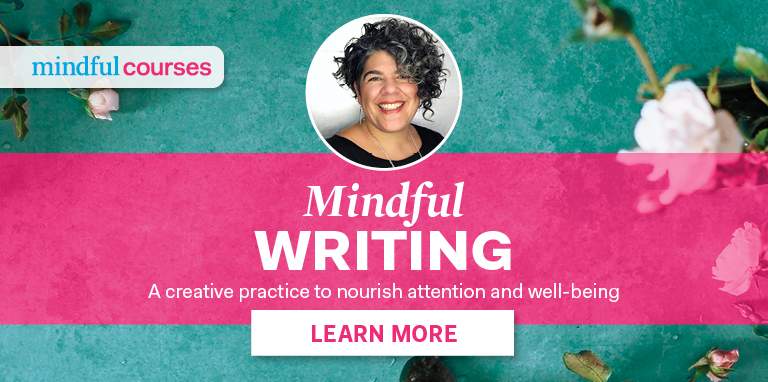 Whether you are a writer or just someone looking for a creative outlet, or a new way to experience and process your world, this new course is for you. Writing is for everyone!
In her inimitable and remarkable way, Stephanie Domet, award-winning author and managing editor for Mindful Magazine, shares practical and useful guidance, tips, exercises, practices, and prompts to strengthen your existing writing practice, or discover a new creative outlet. With guided contemplative practices that help you pay attention in new ways to the world around you, and the world within you, Mindful Writing takes you on a journey that joins mindfulness and writing, to help you discover a new way of seeing and being in the world.
If you are a writer or hope to become one, this course will be the best investment you ever made. And if you just want to learn more about creating an intentional space for yourself to journal and be mindful, this course will help you fall in love with the practice of writing, and fall in love with yourself along the way. This course is for you if you want to:
Find a new creative outlet or expand an existing writing practice
Explore the joy of experiencing yourself and the world through writing
Make space for being mindful
By enrolling, you'll learn:
How to jump into writing without hesitation
To connect to your senses in the present moment
Unlock creativity and harness your voice
This self-paced course includes:
20+ instructor-led videos
---
Writing Prompts:
Character Questionnaire:
Guided Practices
A collection of guided practices from Stephanie Domet to explore character, setting, and world creation in your writing.
Writing Exercise: Setting
Writing Exercise: Character
Writing Exercise: World Creation
Resources
Read more about mindful writing and journaling.
Read More
More articles from Stephanie Domet.