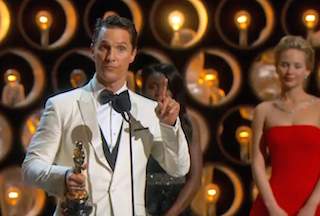 It's not unusual to hear award-winning actors thank God, their families, and their colleagues when they stand behind the Oscar podium. But in his Oscar acceptance speech for best actor on Sunday night, Matthew McConaughey took his thanks in an unexpected direction. The Dallas Buyers Club star went so far as to say, "He has shown me that it's a scientific fact that gratitude reciprocates."
While McConaughey's comment created a bit of a stir, with media outlets handing him the best and worst speech of the night, it's difficult to deny the power of gratitude when an extensive body of research supports its benefits.
Taking a moment to be thankful for the good things in life can help you cultivate a healthy work life, manage stress and develop a deeper connection to people, especially in tough situations. Researchers at the Greater Good Science Center at the University of California, Berkeley have even commissioned a three-year project, Expanding the Science and Practice of Gratitude, to dig deeper into the health benefits behind the art of appreciation.