Producer and director Rob Beemer wanted to bring the mindfulness message to a wide audience. He tells Mindful Content Director Anne Alexander that his quest took him from Hollywood to the Harvard Business School to a prison in Rhode Island—and surprising points in between.
Anne Alexander: Congratulations! You're making a movie about mindfulness.

Rob Beemer: Thank you, yes, this is a huge passion project. I've been practicing mindfulness for more than 10 years and it's made such an important difference in my life. I felt like there were still misconceptions and people who would benefit but weren't aware of mindfulness. I wanted to use my skills to help make the world a better place.
Anne Alexander: How did you come to mindfulness?
Rob Beemer: As a teenager I was interested in Buddhism and meditation and then got busy, started working, and drifted away. By the time I was a parent of two young children and working a very stressful job, I was losing my temper way more often than I wanted to.
One day, I was at a grocery store and saw an issue of Shambhala Sun [now Lion's Roar magazine] and became a subscriber. Then Mindful Magazine—with its focus on secular mindfulness—came out and I thought, this is perfect for me and subscribed to that as well. Seeing the content, learning about the different people through the magazine kind of gave me the idea. I felt like if I could do that on a scale of a film, I could reach more people.
Anne Alexander: Tell me about the movie. It seems like you talked with an incredible all-star list of people who are practicing and using mindfulness.
Rob Beemer: One of the first people I talked to was Diana Winston, since I'm in Los Angeles and she's at UCLA. We had a nice conversation and she was kind enough to pass along some other contacts and that led to speaking with Sharon Salzberg and on and on. The conversations kept taking me to all kinds of interesting people and places. It does help to be able to say, oh, I've worked with Morgan Freeman and Charlton Heston.
Mindfulness is one of those things that you just want to share. Oftentimes you enter it perhaps because you're in pain or because you want relief from maybe stress or whatever. And then as soon as you start to see the benefits, it's just so easy to share and the desire is there to share. And it's just—it's utterly transportable. It's free. Everybody can do it. It's secular. The fact is that it all just makes a better society. I think that it brings out the good in so many people.

Mindfulness is one of those things that you just want to share. Oftentimes you enter it because you're in pain or because you want relief from stress. And then as soon as you start to see the benefits, it's just so easy to share.
I'm grateful that I got to talk with so many experts—Dan Harris, Jon Kabat-Zinn, Daniel Goleman, Richard Davidson, Judson Brewer, Rich Fernandez, Congressman Tim Ryan, and more. We have gotten incredible support from Deepak Chopra and Jewel Kilcher as executive producers (also featured in the film) and we had the chance to talk with regular people from so many different walks of life.
Anne Alexander: Were there particular moments that blew your mind?
Rob Beemer: I think one that comes to mind is the segment inside the prison in Rhode Island with Fleet Maull who is doing great work with the Prison Mindfulness Institute. Just being inside the prison, in that environment, with guards in front of us and guards behind us, and seeing mindfulness being used to help people was intense. As Fleet said, these men have to have a very tough exterior to protect themselves. But if we want them to be good citizens when they get out, we have to give them an opportunity to do some work on themselves: to learn to let down their guard and work on their own emotions and reactions. We also went to Harvard Business School talking to Bill George about how he's training CEOs and business school students, so it was really fun to go from these extremes where you wouldn't normally think of mindfulness being used.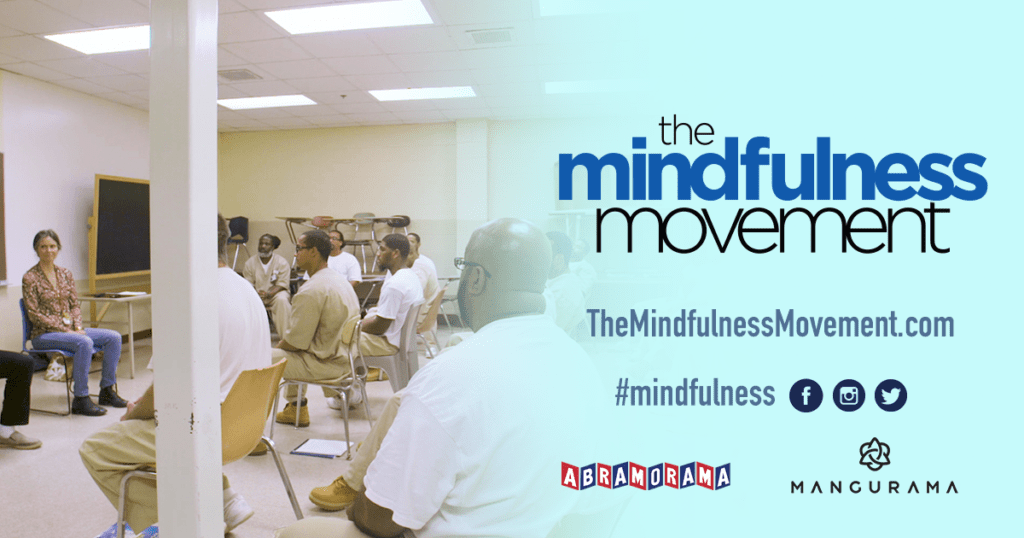 Anne Alexander: And remarkable that it all comes back to the same thing.
Rob Beemer: And how simple it is. And I love it when in the segment with the kids [at the Holistic Life Foundation] in Baltimore hearing a child explain it and being so deeply moved by it. Yet it's so simple that we all overlook it.
Anne Alexander: If somebody wants to learn more and go see the film, how do they find it?
Rob Beemer: We were going to be in over 50 theaters across the US and Canada but due to concerns about the coronavirus, we're accelerating our plans for a global online release on April 10. It will be available to rent or purchase directly at on our website. And in the spirit of a global release, we'll have subtitles in at least five languages (Spanish, French, German, Portuguese for Brazil, and Hindi). In addition, there are so many great things that we filmed that we didn't have a chance to use, we're going to be providing more content on the site. We got so much good stuff, we had to make some tough choices!
Read More
Army Lieutenant General Walt Piatt discusses the role mindfulness plays in conquering fear, avoiding procrastinating, and training for combat. Read More
Anne Alexander
October 31, 2019
Mindful editor Anne Alexander invites us on the journey of deepening our sense of wellness through mindful ways of thinking and being. Read More
Anne Alexander
March 4, 2020