When I was a little girl, my mom would take me to the farmers market, where I always sought out this one man who sold soft, fresh goat cheese. I'll never forget the way it melted away in my mouth, the taste indescribably fresh and beautiful.
Cheese comes in so many different, exciting varieties, and each has its own unique texture and flavor. It can be a wonderful accent to a dish—shaved pieces of Parmesan or manchego on a simple tartine or salad adds a little intensity; a nice Gruyère sprinkled on a gratin of layered vegetables cooked very lightly under the broiler creates a lovely, golden crust.
When spring arrives I get so excited by all the gorgeous vegetables that start to sprout up in the markets, like crisp asparagus and perfectly sweet green peas. I want fresh flavors, something cleansing after all the hearty comfort foods we tend to eat in the fall and the winter. So I often think of cheeses that are fruity and flavorful, and not too intense.
Prosciutto and melon is a classic pairing of sweet and savory, which I've chosen to enhance with the subtle creaminess of goat cheese. Cut into little pieces, this dish makes a delicious hors d'oeuvre.
The ricotta is the centerpiece of the pasta dish. So if you can splurge and use the highest quality you can find, it will make it noticeably tastier. This recipe makes a delightfully creamy and light spring meal, and the lemon brings out the flavors in the dish.
Just like me, my little girl Lulu adores food—she makes the most lovely faces when she eats something she really likes. And, like me, she loves cheese, so I use a lot of it—I guess the pear doesn't fall far from the tree!
Prosciutto, Melon, and Goat Cheese Rolls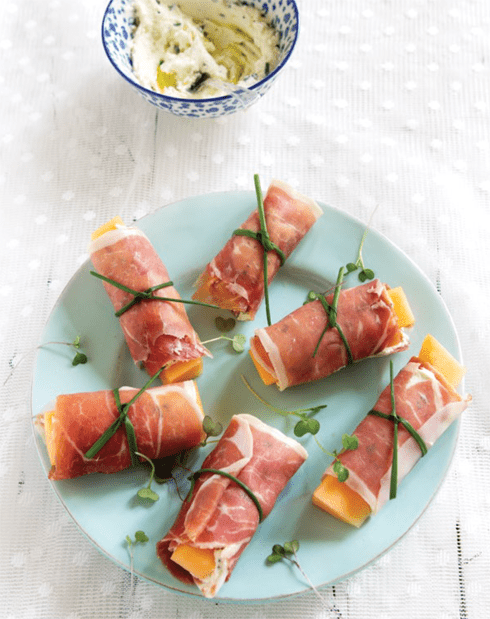 Serves 4
7 ounces (200 g) fresh soft goat cheese
2 tablespoons chives, finely diced
½ teaspoon ground cumin
Squeeze of lemon juice
2 tablespoons olive oil + more to drizzle
Sea salt and pepper
8 slices of prosciutto
½ cantaloupe melon, cut in ½-inch by ¾-inch sticks
Basil, finely sliced
8 chive stems for tying
2 cups baby arugula
In a small bowl, combine the cheese with the chives, ground cumin, lemon juice, and olive oil. Season with salt and pepper. Place the slices of prosciutto in front of you on a working surface, and spread the cheese mixture on top. Add a stick of melon and a sprinkle of basil at one end and roll to close. Secure with a piece of chive. Serve on a bed of arugula and drizzle with olive oil.
Photographs by Béatrice Peltre