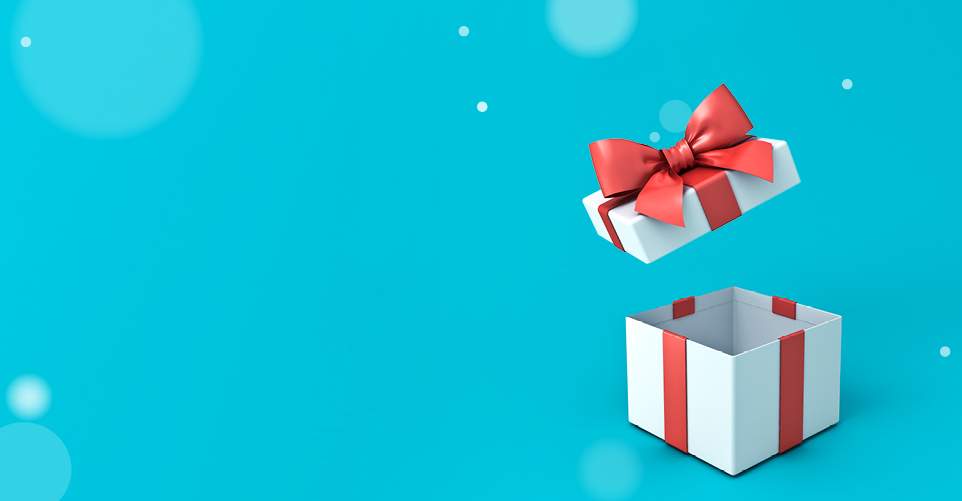 Mindful's 2022
Holiday Gift Guide
This holiday season, share the gift of mindfulness
with this curated collection of mindful gifts.
Win big! For a limited time, you can enter for a chance to
win an incredible selection of products from the brands below.
Enter by December 12, 2022 for your chance to win some of our favorite mindful products.

We invite you to take a look below at some of the products offered in Mindful's 2022 Holiday Gift Guide. This holiday season, share the gift of mindfulness with this curated collection of mindful gifts.
Art of Living Retreat Center
Gift Certificates
This holiday season, show someone how much you love them with a gift of self-care and self-discovery. A gift certificate to the Art of Living Retreat Center immerses the recipient in the spiritual magic of the Blue Ridge Mountains—an unparalleled experience in a peaceful natural setting. Your loved one can choose one of our all-inclusive Happiness, Meditation, or Silent Retreats; indulge in treatments and therapies at our award-winning Shankara Ayurveda Wellness; or shop our online store—the perfect way to give happiness, health, rejuvenation, and peace.
How to Live: The Essential Mindfulness Journal
With Wisdom From Thich Nhat Hanh
Positive and accessible, this journal makes self-help feel like a natural aspect of self-care. A companion to the bestselling How To (Mindfulness Essentials) books from Thich Nhat Hanh, this guided journal contains quotes to contemplate for your own mindfulness practice. Lined pages for writing are interspersed with quotes and the beautiful sumi-ink illustrations of Jason DeAntonis. Like the How To books, this journal is small enough to fit in your pocket or backpack.
Whispers of the Soul
New and Selected Poems
A collection of poems that range from expressions of gratitude for the gifts of nature, to musings about aging and the fragility of life, to insights about women's issues and concerns, to observations about the complexities of family dynamics, to reflections about writing and therapy.
Choose Growth
A Workbook for Transcending Trauma, Fear, and Self-Doubt
Process grief, trauma, and hard emotions with this workbook full of reflective exercises. Whether you're healing from loss, adapting to the new normal, or simply looking ahead to life's next chapter, Choose Growth is a toolkit for tough times, helping you promote healing with compassion and curiosity. Grounded in the latest research in positive psychology and core principles of humanistic psychology, this is the perfect companion to navigating whatever choppy waters in which you find yourself. Learn to foster secure attachment, set healthy boundaries, practice radical self-acceptance, and more with this supportive, insightful guide to becoming your most authentic self.
Set Boundaries, Find Peace
A Guide to Reclaiming Yourself
The mental health resource we all need. At TarcherPerigee, we believe there is no better gift than becoming the best versions of ourselves. We champion feeling empowered, aligned with our bodies and minds, and confident in our voices. But we also know this takes work. In Set Boundaries, Find Peace, and its companion Workbook, beloved therapist and author Nedra Tawwab leads us on a path towards setting boundaries and showing up for ourselves–and our loved ones. A must-read for anyone looking to transform any relationship in their lives. Nedra's voice shines from each page and makes a more peaceful life easily attainable. Let's make life a little easier, and brighter, this holiday season–we owe that to ourselves.
Somavedic
Frequency Therapy Device
Experience wellness any time anywhere with the frequency therapy device – Somavedic.
In today's technology-driven world, Somavedic provides a much-needed solution to indoor pollutants. This compact and easy-to-use device has been scientifically proven to mitigate the unwanted influences of electromagnetic radiation (EMF) from WiFis, wireless devices, and 5G networks – essentially harmonizing home and office spaces – to improve user's energy levels, focus, and productivity, and also improve overall sleep quality!
Somavedic products are handcrafted with the highest quality, 100% hand-blown glass in the famous Crystal Valley of the Czech Republic – this means that every product is unique. Enjoy the product risk-free with a 60-day money-back guarantee.
Just plug it in and feel the difference!
The Ungloo Box
By Ungloo
The Ungloo Box is a portable meditation seat that is specifically designed for back, hip, and knee support as well as foot and ankle cushioning. The backrest doubles as the front opening panel and all of the supportive pieces fit inside the Box for easy storage. At just 8 pounds it's easy to grab and take with you anywhere indoors or out. Put it on your deck at sunrise, take it to a park, or simply keep it in your home for your practice.
Mindful Writing Course
A Creative Practice to Nourish Attention and Well-Being
In her inimitable and remarkable way, Stephanie Domet, award-winning author and managing editor for Mindful Magazine, shares practical and useful guidance, tips, exercises, practices, and prompts to strengthen your existing writing practice, or discover a new creative outlet. With guided contemplative practices that help you pay attention in new ways to the world around you, and the world within you, Mindful Writing takes you on a journey that joins mindfulness and writing, to help you discover a new way of seeing and being in the world.