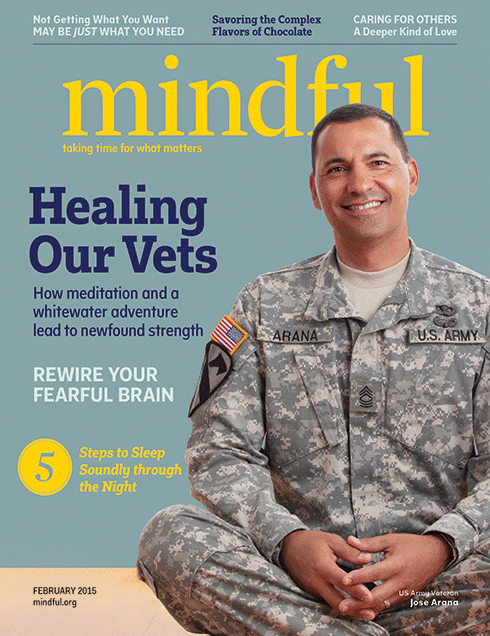 Healing Waters
War veterans—who've seen more pain and devastation than most will see in a lifetime—struggle to find peace. Three days on a roiling river together with some meditation bring them a step closer to feeling good in their own skin again. Katherine Ellison reports.
Sidebar: Veterans in need
Sidebar: Symptoms of PTSD

 Read: research and resources on veterans and mindfulness
Lean into Your Fear
Whether big hairy spiders or unopened bills fill your nightmares, next time you're afraid, resist the run-and-scream impulse. Ed Halliwell explains why the best way to work with your fears is to approach rather than avoid. It's a habit you can build on.
Rouse Your Generosity and Kindness
Scientific research shows that kindness reduces pain and anger and boosts well-being. In this sixth and final installment of our Getting Started series, we explore the powerful role kindness and generosity can play in our lives, and we show you ways to incorporate it into your everyday practice.


 Read: kindness practices, blogs, and video resources.
A Deeper Kind of Love
So many of us will find ourselves caring for a loved one as they brave the journey through old age, decline, and death. Caregiving is demanding—at times overwhelming—and, Nell Lake says, it can cultivate intimacy, wisdom, and insight.
Read: When Caregivers Need Healing: Five Tips for Mindful Caregiving
Departments
Your Thoughts
Readers write, tweet, post.
The Mindful Quiz
Answers to our reader survey on love and relationships.
Our Point of View
The Many Meanings of Mindfulness
Our editor-in-chief queries meditation teachers on the rich meanings of the word mindfulness.
Top of Mind
Things that spark our minds, touch our hearts, make us smile—or roll our eyes.


 Read: Insurance Companies Bring Mindfulness to Work
Mindful-Mindless
Some people go above and beyond to be helpful; others, not so much. Our take on who's paying attention and who's not.
Bookmark This
Writings, recordings, and apps that are capturing our attention.
Research Roundup
Research is trying to keep pace with the explosion of interest in mindfulness. Here are studies from the frontier.
Brain Science
Flawed Thinking
Often our view of reality gets skewed by cognitive bias, when our brains reach the wrong conclusions. In psychotherapy, Sharon Begley warns, cognitive bias can put patients' recoveries at risk.
MindSpace
Artist Maira Kalman finds surprising relief after breaking her arm.
Mindful Living
How to Live a Mindful Life
Your Guide to Defusing Anger
Here are 11 ways to take time for what matters and keep anger from messing up your life.
Body
Escaping Gravity
Competitive sailor and paraplegic Sarah Everhart Skeels reveals how sailing lets her leave the heaviness of life on shore.
Food
Sensual, Savory Chocolate
When it comes to desserts, resident foodie and mindful eating advocate, Béatrice Peltre, always returns to chocolate for the perfect, decadent Valentine's Day treat.
Mindful Practices
Techniques
Winding Down and Falling Asleep
How to stop tossing and turning and get some quality shut-eye.
At Work
Talk to the Whole Person
Jae Ellard gives you the basics to stop focusing on the small stuff and have mindful conversations at work.
Ms. Mindful on Relationships
Make Love a Priority
Valentine's Day can be more than chocolate and roses—this year make it a reminder to show up for love, again and again.
Insight
The Perks of Disappointment
Carolyn Gimian challenges you to rethink disappointment. Not getting what you want may be just what you need to move toward a better future.
If you would like to purchase a copy of this issue, you can go to our store here.