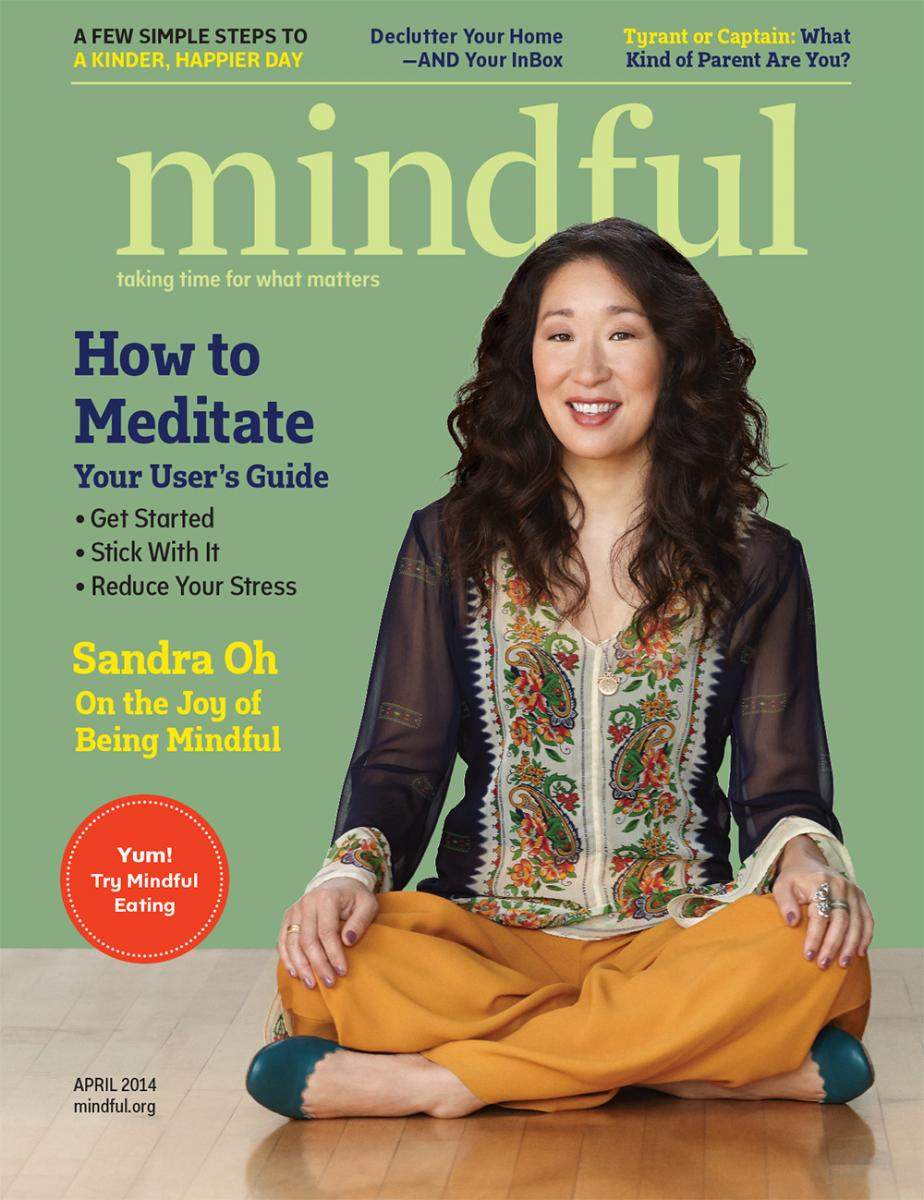 How to Meditate: Start Here
Lots of us think about trying mindfulness meditation, but it can be hard to know where to begin. We'll show you how to start, feel better, reduce your stress, and enjoy your life a little more.
Q&A: Sandra Oh: The Joy of Being Mindful. p. 51

 The Captain Steers the Ship
What children need, says parenting expert Susan Stiffelman, is the security of knowing that someone capable and loving is nearby to help them pilot their way through life. And the difference that can make—even when it comes to the little things—will amaze you.
Sidebar: A handy guide to figuring out who's in charge in your household. p. 38
A Kinder, Gentler World
Is compassion something we only have so much of? Or can we be trained to love more people more of the time? Jennifer Campbell reports.
Sidebars: Sociologist Christine Carter shares her kindness rules; Google's Chade-Meng Tan offers a 10-minute exercise to help shift perspective. pp. 57, 58
Finding My Way
When all of our lives are so similar and yet so different, where can we look for guidance? As Jessica Morey has learned—and what she now teaches to teenagers—the best guidance is discovered in ourselves.
---
Your Thoughts
Readers write, tweet, post.
Our Thoughts
Editor-in-chief Barry Boyce looks ahead as Mindful begins its second year.
Contributors

 Now
News from business, technology, education, neuroscience, and psychology, including a roundup of current research. Read the online extras: "Designing Mindful Classrooms," "Solving Email Overload" and "Mindful Summer Camps."
Bookmark This
The writings, recordings, and apps that are capturing our attention now.
Mindful/Mindless
Cookie Monster learns to say no and Axe Body Spray clears out a grade school. Our take on who's paying attention and who's not.
Body Mind
Weightless
Ella Ackley decided at 65 that it was time to get back in the pool. But winning national swim meets? She didn't see that coming.
Mind Science
You Are Where You Live
How did you end up living where you do? Is it all an accident? Likely not. Sharon Begley points to new research that suggests we live in places that fit our personality. Read the article.
Mindful Eating
Chopping Away Distraction
In the course of making leek-andpotato soup, Andrea Miller finds that ingredients—no matter how humble— sing when they get her full attention. Recipes by Béatrice Peltre
In Practice
Techniques
Eat, Drink, Be Mindful
Eating mindfully isn't about resistance or restriction. It's about enjoying more. Read the article.
At Work
How Do I Get Noticed Around Here?
How to run a meeting and keep everyone's attention; how to help your boss see the value of a particular employee.
Ask Ms. Mindful
Don't judge parenting styles—lend a hand instead; be more relaxed on a first date; and enjoy sex even when you're out of your depth.
Insight
A Higher Education
We're learning every minute, says Mirabai Bush. Taking more time with everyday details makes each situation a chance for discovery.
MindSpace
Guest illustrator Lisa Congdon meditated for 15 minutes. Here's what she found.
If you would like to purchase a copy of this issue, you can go to our store here.