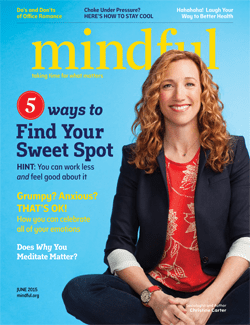 Relax into Your Sweet Spot
Don't get addicted to busyness, or let it become a badge of honor. You can do less—and feel good about it. Christine Carter shows you how.
Sidebar: 5 Steps to Finding Your Groove
Sidebar: Achieve More by Doing Less (Really!)
What Is Happiness Anyway?
It's not all about smiles and feel-good platitudes. Barbara Graham seeks out the latest research on "happiness," which finds all emotions have their place—even grumpiness and sadness—as long as you take note of what you're feeling.
Sidebar: 10 Ways to Jump Start Your Happiness
The Joy of Living Small
We know bigger isn't always better. And when it comes to housing, a new breed of homeowner is opting for the freedom of simplicity over the luxury of big houses.Sam Littlefair Wallace reports.
Infographic: What It's Really Like to Live in a Tiny House
Business Is Personal
Corporate leaders, including Bill Ford of Ford Motor Company and a series of CEOs at Patagonia, aspire to treat employees mindfully, be honest with the public, care for the earth—and still succeed.
Sidebar: Meditate at Your Desk
Departments
Mindful Living
How to Live a Mindful Life 
LOL Now
Here are 11 ways to laugh your way to a healthier, less stressed-out life.
Meet the Meditator
Teachable Moments
High school English teacher Tyson Nichols on how meditation changed his life—and improved results for his students.
Food
Zucchini: The Shapeshifter
In the summertime, foodie and mindful eating advocate Béatrice Peltre loves to get creative with simple, subtle zucchini.
Mindful Practices
Techniques
Be Kind to Yourself—Right Now
To be kind to others, you need to start with yourself.
At Work
How to Handle Office Romance
Jae Ellard says it's time to stop being so squeamish and start paying attention to relationships in the workplace.
On Relationships
"My Love Life is My Hobby"
Making a deep connection isn't so different from falling in love with your favorite pottery class.
Insight
Does Why You Meditate Matter?
Don't let meditation become just one more thing on your to-do list. Shauna Shapiro explains how reflecting on your intention gives you a reason to sit—and imbues it with life, energy, and direction.
Your Thoughts
Readers write, tweet, post.
The Mindful Quiz
Answers to our reader survey on your happiness habits.
Our Point of View
The Prescriptive Society
Editor-in-Chief Barry Boyce says when it comes to advice for working with your mind, one size does not fit all.
Top of Mind
Things that spark our minds, touch our hearts, make us smile—or roll our eyes.
Research Roundup
Research is trying to keep pace with the explosion of interest in mindfulness. Here are studies from the frontier.
Mindful-Mindless
Some people go above and beyond to be helpful; others, not so much. Our take on who's paying attention and who's not.
Bookmark This
Writings, recordings, and apps that are capturing our attention.
Brain Science
Brain Freeze!
Choking during pressure-packed performances is the worst. Sharon Begley tells us why we do it, and how to avoid it.
MindSpace
Artist Susa Talan ponders the little things that bring her happiness.
If you would like to purchase a copy of this issue, you can go to our store here.