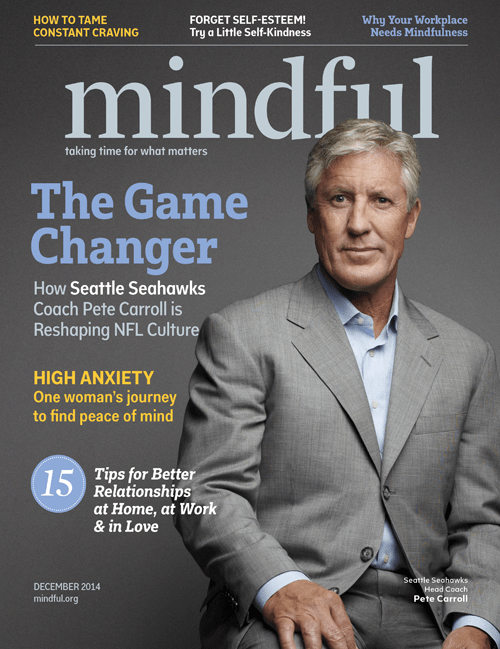 The Game Changer
Most coaches impose standards from the outside. Pete Carroll, head coach of the Super Bowl Champion Seattle Seahawks, asks his players to go inside—to find the confidence to be the best they can be. He coaches the whole person, and it changes their view of the game, and of life. Hugh Delehanty reports.
WATCH: Michael Gervais talks about mindfulness and high-performance training.
Sidebar: 3 Big Ideas that Molded Coach Carroll's Philosophy
Sidebar: Taking the Lead: Reducing Head Injuries
High Anxiety
Anxiety disorders adversely affect the lives of about 40 million Americans. They are plagued by insecurity, dread, persistent stress, and irrational fears. Noted essayist and author Barbara Graham reveals her personal story of a lifelong struggle with high anxiety, and details her expansive search for relief and peace of mind.
Bringing Mindfulness into Your Relationships
Mindfulness can help us de-stress, but where it really gets put to the test is in our connections with others. Here's how to bring attention and caring into your most important relationships—at home, at work, and in love.
Read: "5 Ways to Bring Mindfulness Home"
Rising Awareness
Author and baker Samuel Fromartz is fascinated by bread—as sustenance, culture, memory, and meditation. In his own kitchen, he finds his mind transported from an obsessive thinking machine to an intuitive organ of the senses.
---
Want a sneak peek? View the digital mini-mag of Mindful's December issue. 
---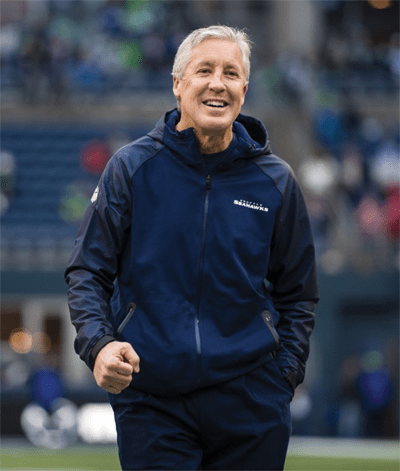 Departments
Your Thoughts
Readers write, tweet, post.
The Mindful Quiz
Answers to our reader survey on holiday habits.
Our Point of View
It's Not McMindfulness
Our editor-in-chief on the rapid growth in workplace mindfulness programs and why that's a very good thing.

 Top of Mind
Things that spark our minds, touch our hearts, and make us smile—or sometimes roll our eyes.
Read: Resources on law and mindfulness.
Mindful-Mindless
Some people go above and beyond to be helpful; others, not so much. Our take on who's paying attention and who's not.
Bookmark This
Writings, recordings, and apps that are capturing our attention.

 Research Roundup
Research is trying to keep pace with the explosion of interest in mindfulness. Here are studies from the frontier.
Mindful Science
Why Music Strikes a Chord
Why can just a few notes of a familiar melody make us tingle with elation or twitch with anxiety? Sharon Begley explains music's powerful sway on the brain.
MindSpace
Artist Maira Kalman's anguish during her annus horribilis.
Mindful Living
How to Live a Mindful Life
Your Guide to Enjoying the Holidays
Here are 11 ways to take time for what really matters and be more mindful this holiday season.
Body
The Reluctant Yogi
Yoga practitioner Sean Hoess reveals why, although he struggles and sweats through the poses, he keeps coming back for more.
Food
Baking with Love and Cranberries
Resident foodie and mindful eating advocate, Béatrice Peltre loves the tart flavor of the cranberry and says it's a perfect ingredient for holiday baking.
Mindful Practices
Techniques
Beware the Habit-Forming Brain!
How to tame your constant cravings by getting to know your brain better.
At Work
Rightsizing Blues;
Unstable Boss Syndrome
Michael Carroll and Janice Marturano answer your workplace questions.
Ms. Mindful on Relationships
Sex and Meditation are Perfect Bedfollows
Although mindful loving requires paying deep attention, the results can be very satisfying: Better sex and orgasmic bliss!
Insight
Don't Fall into the Self-Esteem Trap: try a little self-kindness
Kristen Neff argues that instead of striving for self-esteem, we need to get in touch with ourselves in any given moment.
If you would like to purchase a copy of this issue, you can go to our store here.