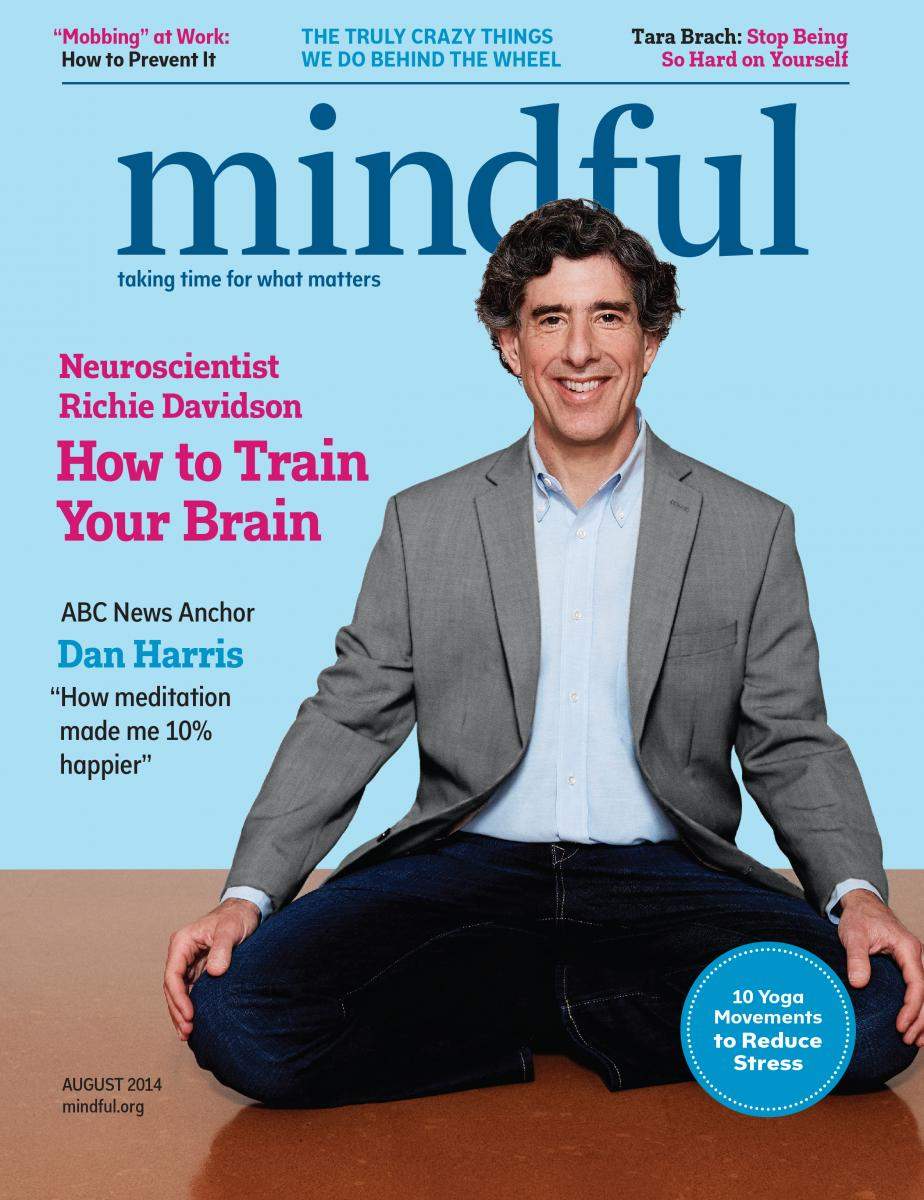 How I Learned to Become 10% Happier
In excerpts from his book, 10% Happier, ABC news anchor Dan Harris describes his journey from meditation skeptic to committed practitioner who believes in the benefits of mindfulness.
Get Up & Move
In Part Three, we look at mindful walking and movement and feature 10 simple yoga exercises to reduce stress and improve well-being. Also included are your (our readers!) favorite practices.

 Stalking the Meditating Brain
Meet world-renowned neuroscientist Richie Davidson and find out why his research on how we can change our brains for the better has such huge—and promising— implications. By Tracy Picha.
Sidebars: A preview of three research projects currently underway under Davidson's direction
Infographic: An at-a-glance look at the many spheres of Richie Davidson's influence
Driving to Distraction
Jeff Greenwald goes out on the road to explore the frightening phenomenon of mindless driving—and how you can become a less bored and reactive driver.
---
Your Thoughts
Readers write, tweet, post.
Our Thoughts
Our editor-in-chief is in a New York state of mind, and talking about paying it forward.

 Now
News from education, technology, the arts, neuroscience, and psychology, including a roundup of current research and a 2014 Mindful calendar of events. Read the web extras: "Documentarian Uses Slow Motion to Prolong the Present," and "A Change of Heart—Literally."
Bookmark This
Writings, recordings, and apps that are capturing our attention.
Mindful-Mindless
Some reduce the number of vehicles on the road through car sharing while others obsess about doggie do-do. Our take on who's paying attention and who's not.
In My Body
Taking it in Stride Runner Lorraine Young talks about how running keeps her focused and in the moment, and how it permeates all areas of her life—mentally and emotionally.
Mind Science
When Memory is Under Attack A new study reveals that mindfulness improves working memory in Marines before they deploy. Sharon Begley asks, if it can help them during times of terrible stress, what can it do for the rest of us? Read the article.
Mindful Eating
Sweet Delicate Taste of Summer
Mindful foodie and chef Béatrice Peltre thinks apricots are the quintessence of summer. Here she features the nutritiously delicious fruit in a savory salad and a luscious dessert. Read the article and recipes.
In Practice
Techniques
The Art of Conversation
Five steps to enjoying more empathetic and artful conversation. Read the article.
At Work
Confront Mob Rule;
Contribute to Community
Michael Carroll and Janice Marturano answer your workplace questions.
Ms. Mindful on Relationships
How the Thrill Can Last a Lifetime
It's up to us to awaken passion when it's waning, and mindfulness can provide the tools.
Insight
Finding Peace Through Self-Acceptance
Tara Brach provides an easy-to-remember, four-step tool to stop being so hard on ourselves: The RAIN of Self-Compassion. Read the article.
MindSpace
Artist Maira Kalman explores a few of the anxieties that kids today are exposed to.
If you would like to purchase a copy of this issue, you can go to our store here.