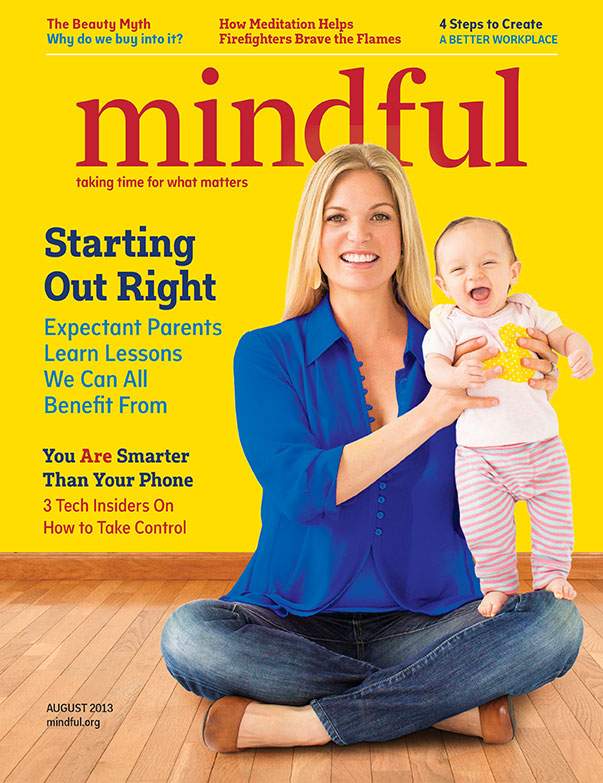 Features

Taking Command of Your Tech
Rich Fernandez of Google sits down with Irene Au of Udacity and Arturo Bejar of Facebook to talk about how to make digital technology work for us, not the other way around
Sidebar: Worn out from all this connectivity? Here's how to handle it mindfully
Parenting with Presence
Reporter Susan Freinkel follows two expectant couples from their first class in mindfulness- based childbirth to the blessed (not to mention challenging) event.
Sidebar: Childbirth doesn't answer to the clocks that run so much of our lives. And there's a lesson in that for all of us
Tune In, Turn On
Can a profoundly deaf musician teach us to listen better? Katherine Ellison talks to percussionist Evelyn Glennie, who wants us to wake up to the soundscape that is always around us

Sidebar: Three approaches to appreciating the music of everyday life

Unfinished Work
It was the deadliest battle every fought on American soil. On its 150th anniversary, Barry Boyce reflects on what Gettysburg can still teach us—about what happens when we decide that fighting is our only choice
---
Your Thoughts
Contributors
Our Thoughts
Now
How meditation helps smokejumpers face the flames • Survival of the fittest? What about survival of the kindest? • New program for preventing falls • Smokers kick the habit with mindfulness • A new device helps you bring awareness to the breath (and your thoughts) throughout the day • Prisoners learn the connection between thoughts, feelings, impulses, and behaviors • Research Roundup
Bookmark This
Writings and recordings that are capturing our attention now
Mindful–Mindless
Our take on who's paying attention and who's not
One Taste
A Bowlful of Wild
Angela Mears appreciates arugula
Recipes by Béatrice Peltre
Body/Mind
Let's Dance
Alexandra Caluen talks to Carsten Knox about the magic that happens when it all comes together on the dance floor
Mind/Body
The Beautiful and the Good
What are our brains doing when we assume that someone who's beautiful on the outside must be beautiful on the inside? Sharon Begley investigates

In Practice
Techniques
Stressing Out? S.T.O.P.
At Work
Figure It Out Together
What does a good mentor do, anyway? And does a leave of absence mean the eventual loss of a great employee?
Ask Ms. Mindful
Breaking relationship patterns, navigating a life-changing event, shifting out of the role of unofficial therapist
Insight
Putting Mindfulness to Work
Tara Healey of Harvard Pilgrim Health Care suggests four steps to bring mindfulness to your job. Everyone will benefit: you, your colleagues, and your organization
MindSpace
Maira Kalman paints a picture of walking meditation On our cover
If you would like to purchase a copy of this issue, you can go to our store here.