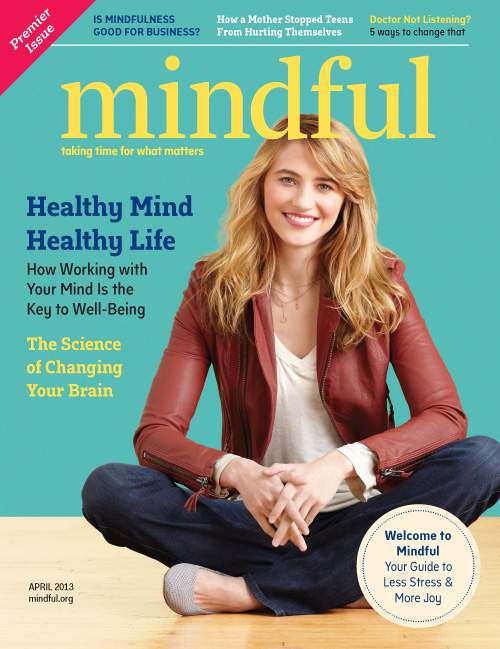 Health Care: New and Improved
Three stories of people who take a hands-on approach to their own health care. By Emma Seppala
Sidebar: Doctor not listening? 5 ways to change that
Raising Baltimore—One Child at a Time
Children in one of the city's toughest  neighborhoods find calm and confidence with the help of three young men who teach them yoga and meditation. By Carsten Knox
Sidebar: Ali and Atman Smith and Andy Gonzalez share tips to help kids find calm
Is Mindfulness Good for Business?
Management professor Jeremy Hunter looks for answers

Sidebar: Your Mind at Work
New ways to tackle the thorniest workplace problems. Download our handy chart.
Still on the Road
Travel can be thrilling, challenging,  disorienting—but for Pico Iyer there is peace in unfamiliar places
---
Contributors

From the Founders
Being Mindful: Now is the Time.
Are You Mindful? Tell the World

Now
How one mother fights for teens • Learn  how to change your mindset • New film documents the work of neuroscientist  Richie Davidson • It's time to redefine  winning • Research Roundup • Art that looks back at you • What they don't teach at the police academy • Get mindful reminders on your phone (and more app reviews)
Bookmark This
The writings, recordings, and apps that  are capturing our attention now
Mindful–Mindless
Our take on who's paying attention and  who's not

One Taste
Crunch & Spice: Angela Mears reconsiders the radish, with recipes by Béatrice Peltre
Body/Mind
Diving Deep: Scuba diving triggered fear for Elizanda  de la Sota, but she didn't let it stop her
Mind vs. Brain
In her first column, Sharon Begley compares "brain talk" to "mind talk"

In Practice
Techniques: Take a Moment to Get Grounded
A Practice for Posture
At Work
Avoid the Office Minefield
Dealing with generation gaps at the office and a boss who talks trash
Ask Ms. Mindful
A husband who spends too much •  A fiancé with cold feet • What to do with a gloomy teen
Insight
Meditation: Start Here
Sharon Salzberg offers practical tools  to deepen concentration, mindfulness,  and compassion

MindSpace
Maira Kalman draws on meditation for her first illustration for our back page
Glimpse: A peek into this issue's MindSpace
If you would like to purchase a copy of this issue, you can go to our store here.