Advertise in Mindful: Taking Time for What Matters and you will enjoy a front row seat in the conversation, the community, and the movement. View the Mindful media kit and learn more about how we can help you extend your reach.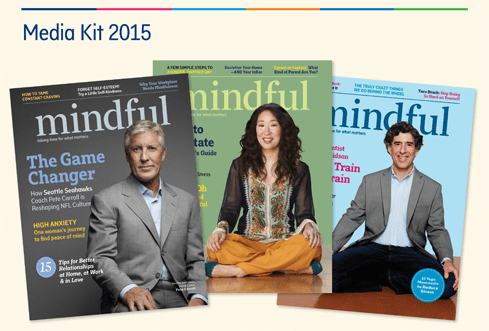 Having launched in early February 2013 in both digital and print magazine formats, Mindful will give voice to the millions of North Americans who are discovering the benefits of mindfulness in all aspects of daily life. It will offer a broad range of articles, advice, and insights—and indeed a community—for the emerging movement excited about the positive effects that mindfulness is having on the world today. Business, relationships, health, parenting, science, education—secular mindfulness is literally sweeping the nation.
Mindful is a magazine, a conversation, a community—and a lot more. It explores taking time for what matters in traditional print form and through its website and social media, and community-building initiatives, including events, salons, meetings, and more.
Mindful offers advertisers a community and resource unlike any other North American magazine on print and digital newsstands today. It makes accessible a new, rich, and expanded ground in which to offer mindful products and services, targeted at an informed audience searching to deepen their connection to mindful living.
For advertising inquiries, rates, and further information, please contact:
Contact
Mindful Marketplace
Paul Laybolt, Advertising Representative
Phone: (902) 431-8060
Email: paul@mindful.org
General Advertising
Claudia Chender, Associate Publisher
Phone: (902) 431-8121
Fax: (902) 423-2701
Email: claudia@mindful.org